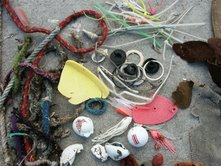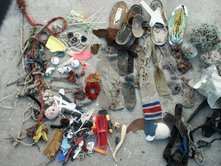 (Image: John Vonderlin's collection of debris found at 'Invisible Beach.')
It was not long after the mystery of the tags was solved, while on another pebble and driftwood gathering trip–that we encountered a new mystery to consider.
There were a sizable number of marine debris objects spread along the beach from the colored pebble gravel bank south for about fifty yards and higher up the beach mixed with a thin layer of wrack. There were a number of black strips and rings of what seemed to be parts of inner tubes.
There were numerous balls of fishing line of many sizes interlaced with small twigs. There were golf balls and their remnants, tie wraps, aluminum can remnants, the top portions of plastic bottles, plastic caps, a handful of shoe soles, particularly kayak footwear, a few heels, halves of naked tennis balls, fishing lures, fishing line spools, socks and rags overgrown with seaweed, Frisbee aero rings, sunglasses, lighters, strips of tire treads, bits of colored plastic from both recognizable and unrecognizable sources, and a number of miscellaneous bits of litter.
To see such a concentrated collection of litter on the normally clean beaches of San Mateo, was both disturbing and fascinating. For it to be composed primarily of objects I had rarely if ever seen before on the local beaches was a real head-scratcher.
With these new mysteries presenting themselves, how could I do anything but begin collecting this cornucopia of weirdness? So I did.
Why this all showed up here, seemingly at once, and where it had come from turned out to be more difficult and more interesting mysteries to solve then that posed by "The Contender." tags.
The last three photos are of most of the debris recovered in one trip and represents a typical "good" haul. End Part 1 Enjoy. John Vonderlin