Hi June,
Being an admirer of people who have odd obsessions with nature and follow that obsession to a level few if any others ever attain, let me relate some of the story of Axel Erlandson, his Circus Trees and the piece of artwork I created to salute him. The following is from the Bonfante Gardens website which also has photos of several of the trees.
"An amazing example of man's patience and imagination once known as the Tree Circus has been rescued from a forgotten plot in the Santa Cruz mountains and transported to a new home in Gilroy, California where they are now the centerpiece for a horticulturally based theme park called Bonfante Gardens Family Theme Park.
"The collection of unusual trees appeared often during the 1940's and 50's in Ripley's "Believe-It-or-Not," "Life" magazine as well as other publications in the United States and other parts of the world. These trees represent one of the most visible demonstrations of the love of nature by man – first to create and nourish, then to maintain, and finally to preserve and cherish these stunning creatures.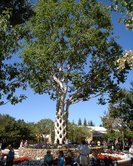 "(The tree shown above is the "Basket Tree". This tree is actually six Sycamores grafted together in 42 different connections to give it its basket shape.)
"This botanical adventure began in Hilmar, California in the 1920's when Axel Erlandson, a farmer by trade, observed the natural grafting of two Sycamores. His first major project consisted of fusing four Sycamore saplings into a cupola that he named the "Four-Legged Giant." Using intricate grafting techniques, Erlandson wove his wonders with threads of living wood. Straight tree trunks became complex and compound designs in shapes like hearts, lightning bolts, basket weaves and rings.
"Erlandson claimed to be divinely inspired and spent over 40 years of his life shaping and grafting the bodies and arms of these full-sized trees. He could control the rate of growth, slowing it down or speeding it up to blend his designs to perfection. In 1945, Erlandson dug and moved a dozen or so of his trees to Scotts Valley, California where he continued to create more natural wonders.
"When this son of the land died in 1964, he left a legacy of 74 spectacular trees, but with no one to care for them, they languished and began to die. In the mid-1970's, a Santa Cruz architect named Mark Primack led a valiant effort to save the trees, even risking arrest for trespassing in order to water and feed the trees. Keeping as many alive as he could, Primack's efforts finally took root when they attracted the attention of tree lover Michael Bonfante who bought the trees for a theme park he was building in Gilroy."
When I became aware of the trees, the man behind them, and the techniques he employed to create them, I was fascinated and researched him and his wonders extensively. One day, while trimming an overgrown bush at my mother's house, I discovered a skinny oak tree that somehow had survived the shade under the bush, and surrepitiously grew up through it, to have its day in the sun. Rather then cut it down, I trimmed its few tiny lower branches, bent it over in an arch, and hung thin, flat rounded rocks from it. I called it "My Tribute to Axel."
I've attached pictures I took of the tribute and a few pictures of the trees that I grabbed off the Internet. Websearching the term "arborsculptors" reveals there are now a handful of people worldwide who practice this very patient artform. Arborsmith.com and orlyd.com are a good place to start. The latter website is by Richard Reames who has written a book called, "Arborsculpture Solutions for a Small Planet," and has a more complete biography of Axel. Enjoy. John Vonderlin