[I wrote this in 2000.]
By June Morrall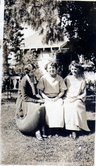 (Above: Emma Granstedt, center; at right, Mrs. Olsen. Courtesy Patrick Moore, click here 4.jpeg (At right: Theodore Granstedt. Courtesy Patrick Moore.)
Emma Granstedt felt a premonition of danger as she boarded the popular "commuter steamer" San Juan at San Francisco on Thursday, August 29, 1929.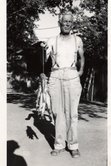 The middle-aged Mountain View woman tried to explain the feelings she couldn't shake to her husband, Theodore: She was worried about an accident at sea, she told him.
Theodore assured his uneasy wife that there was nothing to worry about. The venerable 47-year-old iron steamer made routine runs between the City and Los Angeles—and he reminded her about the attractively inexpensive fare, ranging from $8 to $10 per passenger.
He may have pointed to the San Juan's advertisement in the local newspaper: "A delightful way to travel," promised the ad. "One fare includes comfortable berth, excellent meals, open-air dancing, promenade decks, radio music—all the luxury of ocean travel. A trip to be remembered! The economic way that entails no sacrifice!"
Premonition or not, it was too late for the Granstedts to change their mind.
It would mean canceling the plans they had made with the Palo Alto friends they were traveling with, John and Anna Olsen and the couple's 28-year-old daughter, Helen.
The Granstedts and Olsens were traveling to Southern California to attend a wedding anniversary celebration—and the trip also gave them good reason to visit the Granstedt's daughter, Irene, who was pursuing an acting career in Hollywood.
Emma may have been consoled to learn that only a few days earlier the San Juan had been in dry dock at which time a new rudder and propeller were installed. The vessel was cleaned, painted and the sea valves overhauled. The steamer's radio was in tiptop shape, and life-saving equipment included six lifeboats and 110 life preservers for adults and 17 children.
Steamboat officials, who inspected the San Juan, pronounced her safe and in fine condition.
Daylight faded and the sky darkened as the sailing hour neared on Thursday, August 29. It was customary for the purser, Jack Cleveland, to sell tickets to impulsive travelers who made a last-minute decision to sail from San Francisco to L.A. One such last-minute ticket-buyer may have been 24-year-old Stanford graduate student Paul Wagner, who was on his way to visit his family in Southern California.
On board the busy steamer there was no hint of anything out of the ordinary—but one significant change had been made: 65-year-old retired Captain Adolph F. Asplund replaced the regular commander who had taken time off for his summer vacation. The experienced Captain Asplund knew every inch of the San Juan, as he had been her captain many years before.
When the San Juan left port, there were 110 men, women and children on board, 65 passengers and 45 members of the crew. All were settling in and a few hours later the steamer approached the beautiful Pigeon Point lighthouse, south of the village of Pescadero.
By now many of the sleepy passengers, including the Granstedts and the Olsens, headed for their staterooms below deck to rest on their first night at sea.
…more coming..