The Coburn Mystery
By June Morrall
(Photo: The famous Swanton House.)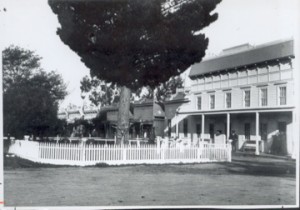 After church on Sunday afternoons, the Fourth of July–or, for no special reason–the Pescadero folk announced a picnic at Pebble Beach. Picking the pebbles became a pretense, sharing the experience of being together replaced the village Town Hall.
Pebble Beach became the fabric that held the close-knit community together.
Simultaneously, the pebbles attracted visitors from as far away as Maine, outsiders who needed a comfortable place to stay. Mrs. Sarah Swanton offered them rooms in a row of charming white cottages, smothered with blood red roses and trailing green ivy.
(An alleyway separated the six cottages called Fern, Myrtle, Rose, Ivy, Elm and Woodbine. All of the cottages opened onto a common garden filled with blooming flowers and shrubs. Beyond the garden was a wide promenade. Owners Charles and Sarah Swanton lived in the main house with their two children, Frank and Eva.
The Swanton House, owned by Sarah and Charles Swanton, stood at the corner of San Gregorio Street and Bean Hollow Road, names that have changed over the decades. Travel writers described the bed and breakfast as a "plain country hotel with a good table," which meant Sarah was a pretty good cook. Old fashioned hospitality kept families returning to Pescadero but it was especially popular with women.
The flagpole–a significant marker by which everyone marked distances–stood in front of the hotel. It was a part of everyday life, always mentioned when giving directions to strangers. And there was a story behind the flag made of store-bought blue flannel with the stars sewn on in the 1850s by the town's leading ladies.
To the south stood a landmark ridge that the locals called Lincoln Hill, named for the famous president, giving away the town's Civil War sympathies. [I mention this because many & briefly, in San Francisco, were pro-Confederacy.] Union Army General Frederick Steele was a close relative of the Steele family, prominent dairymen at Ano Nuevo, south of town.
Wooley & Taft's stagecoach picked up passengers daily at the San Mateo train station on the opposite side of the tree-covered mountain. The stage drivers, with reputations as hard drinkers and daredevils, careened over the hills.