The Legacy of Daniel Durigan
by John Vonderlin
email John ([email protected])
Hi June,
I recently received an email from a gentleman who had just read in your blog about my favorite headstone in the Mt. Hope Cemetery in Pescadero: the one for Enos Ralston.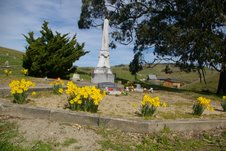 He related to me that he and a friend were looking through some photos he'd taken twenty years ago and came upon one he had taken of the grave marker. His friend opined that the epitaph, (the reason it's my favorite), must have been composed by somebody famous.
After online research he found no evidence of that and thought not. He did come upon my essay and asked if I wanted to look at his picture. Of course, I wanted to see it, and moreover it reminded me that I had wanted to return to the cemetery to check out a new marker I had recently read about. So I did.
The grave marker I wanted to see is for Daniel Durigan,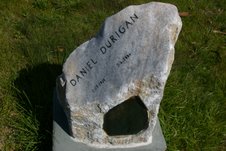 the owner for 38 years of Durigano's Nursery on Highway 1, south of Pescadero. Durigan was an avid rock collector and lapidarist. After his death, it was his wish to give his extensive lapidary tool collection to the Pescadero High School. Several students have begun exploring careers in lapidary because of Durigan's generosity. I consider that one of the finest and possibly longest-lasting legacies one can leave.
The positive effects of Daniel Durigan's gift were manifested when one high school student used his tools to create a grave marker for Durigan, using an unusual type of local marble from Durigan's collection and an inset of jade found off our shores, especially at Jade Cove, in the Big Sur area.
While I was at the cemetery photographing Daniel Durigan's grave marker, I noticed how spiffed up the entire cemetery was, compared to when I was last there. I suspect that is the work of Ed Weeks, the great, great, grandson of Brandon Weeks, one of Pescadero's founders. Five generations of Weeks' family are laid to rest at the Mt. Hope Cemetery, including Ed's grandmother, Annie Weeks, and his first wife.
In the Weeks' family plot was a new headstone commemorating William Dewlaney,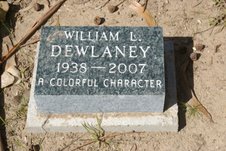 who died last year. His epitaph is the sort I might want if I didn't favor cremation and oceanic dispersal, William Dewlaney 1938-2007 A COLORFUL CHARACTER. Enjoy. John Vonderlin