Wrestling with the Trestle Truth
Story by John Vonderlin
(email John; [email protected])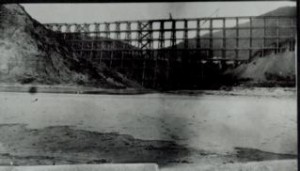 (Photo: trestle at Tunitas Creek)
Hi June,
Angelo's email about the fate of the Palmer Gulch Trestle stimulated me to do a little research. I had stated in my story about our pilgrimage to the trestle, that a fire caused its collapse.
Angelo's sources said that it had collapsed by itself.
My belief was based on being told that it had been set on fire, coupled with the paucity of remaining timbers, and the fact that most of those were fire-scarred. Nonetheless, he was right. I now believe the trestle collapsed over a period of more than a decade, and was severely scavenged after it collapsed. Then its remains were set on fire.
Here's why:
If you go to the California Coastal Records Project (CCRP) website, and look at the 1979 Picture #7928080, you can clearly see the trestle has collapsed. The right side of the canyon has a long intact stretch of the roadbed (or whatever you call the top where the rails would have been laid) slumped into the canyon, but still mainly intact. The left side of the canyon has an impressive "Pickup Stick" pile of timbers littered across the slope below the right-of-way.
The 1972 Pictures #7218035 (&6) show the left side of the trestle to be collapsed, but with some of the superstructure still standing. The roadbed on the right side is also collapsed, but can't be seen as clearly as in the 1979 picture because of the quality of the photo.
Meg tells me that after our trip to the trestle, she attended a meeting where she met a gentleman who related how he had scavenged heavy timbers from the trestle to support his waterbed.
(The modern waterbed was first created by Charles Hall, San Francisco State University student in 1968, after trying unsuccessfully first with cornstarch, then Jell-O. ) I suspect, with vehicle access to the beach from several roads, both the north and south, he was just one of many who valued the timbers for their functionality and/or provenance.
Though I've heard second-hand that the remains were set on fire, I don't know when or if it was deliberate. It must have been done in wet weather as there is no sign of a burnt landscape in the 1987, 2002, 2004. or 2005 pictures. Maybe somebody out there knows the details.
Thanks for pointing me in the right direction, Angelo. Enjoy. John Vonderlin