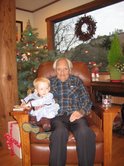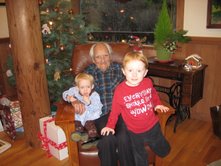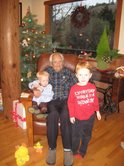 (Photo: Orril Fluharty with his grandkids.)
Kevin D. says:
Hi June,
Saw that you had posted a picture of Orril on his passing. Not sure whether you were in Pescadero today for the service … but I hope so.
I actually didn't know the man well and met him only once, but his son and grandson built my house so had heard all about him. It was very apparent from all the wonderful stories today and the lives he'd touched that he was a special man. A man that embodied joie de vivre, un bon vivant, en un absolument charmante et geniale.
So many funny and touching stories! I hope you'll write one or two of them up! And if you weren't there – I believe they have them on tape. Think it would be wonderful to include some of these memories of him in your memories.
———————–
I [June] have my own special memory of Orril Fluharty but it 's not easy to describe or explain. My encounter with him was not the kind that can be told in words; it can't be captured on a page.
When I tell you my little story, it will sound ordinary when it was magical.
In the late 1960s my boyfriend worked summers at Memorial Park, picking up trash, cleaning the bathrooms, repairing things. We often brought our sleeping bags and camping equipment and slept under the scented redwood trees. During the day I explored the trails and swam in the swimming hole; it was unforgettable. Sometimes Memorial Park was full–there was no place to pitch our tent, build our campfire.
Who took us in? Orril Fluharty. He lived nearby and welcomed us warmly. We slept safely and happily on his property.
What I remember, and this is what my simple words cannot capture, I remember his height, his stature; he seemed so tall against the sky, against the day. I have never forgotten that image, that feeling that comes from somewhere else.
———————