To hear "Captain Omar N. Steele's March", click here1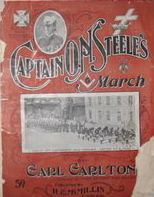 Robin Caldwell writes:
June,
I can't tell you how much fun I have had since first contacting your blog on May 18. I was searching for information on my great grandfather, Omar Noah Steele. John Vonderlin contacted me with several items that appeared in the book, "Echoes of Gazos Creek" by Harvey Mowry. I purchased the book and was excited to see more information on Omar's life in California, including a never before seen photo. Now I know when Omar arrived in California, when he returned to Ohio for good, and the reasons for his return. John put me in touch with Mr. Mowry, to whom I was able to express my gratitude for all of the research he has put into the book. I was contacted by Susan Hawes whose great grandfather was Charles Steele, Omar's brother. Thank you for your blog and the wonderful people who read it and are eager to help.
My current project is to try and contact the people who edit the updates for the book "The Steeles of Point Ano Nuevo; A Family Genealogy and History From 1591 – 2000".
On page 97, there appears a page of sheet music titled "Captain O.N. Steele's March". The book says it was written in honor of Osman N. Steele who was killed in the NY Anti Rent War of 1845. This information is incorrect. The march was written in honor of Omar N. Steele. He was Captain General of the Forest City Ohio Commandry of Knights Templar. A 33rd degree Mason. I know this is true, because I have the original copy of the sheet music with his photo. (see image at top of the blog.)
Just for fun, I have included an attachment of a computer generated recording of the music that my brother Jonathan Wallace put together for me.. To hear & enjoy "Captain Omar N. Steele's March, click here
Does anyone have contact information for the update editors of the book?
Email Robin ( [email protected]