PescaderoMemories(PM):
What was your life with Neal Cassady like? I have his book, "The First Third;" I remember buying it at Keplers which was near the street where you hung out in Palo Alto. Did Neal Cassady visit AN? I've heard about the Kesey movie…were you there when they were filming?
Russell Towle (RT):
Well. On Channing Way, in Palo Alto, in the early summer of 1966, Neal Cassady sometimes resided at the house I lived at. I was doing light shows. This house was a kind of commune with an old carriage house or
some such thing in the back yard where half a dozen more people could live. It happened that several of the Pranksters would stay in that backyard house. I didn't interact at all with Cassady, being content to view him from a safe distance. He was given to carrying this little sledge hammer around with him, and was a regular expert at flipping it up and catching it again. Like the other Pranksters he was always stoned. So was I, but those guys were into methedrine, heavy into methedrine. If Neal Cassady spoke it seemed always to be in a flurry of words, from which one, with luck, might extract certain images or even feelings. I remember hanging around him at what passed for an acid test in Palo Alto, some weird auditorium full of echoes, some
music, too loud, and several young men and I encircled Cassady, enraptured with his bizarre monologue. He had abandoned his sledge hammer for one solitary orange. It was expertly flipped and spun and tossed while the words poured out. Then Cassady would take a break and dance with some hot chick, by far the most erotic dance one would ever see outside a strip club, I should imagine, having no experience with
strip clubs beyond what I might see on TV or in a movie. It was as close to having sex on the dance floor as would be possible.
No, I really don't have many memories of Cassady. Being a Jack Kerouac fan I was somewhat adulatory; but I do not recall any kind of direct interaction with him. At that Channing Way house lived other people I found quite interesting: Gale Curtis and Paul Mittig, who headed up the light show, and Dave Nelson and Peter Solspock (spelling probably wrong) and Dave Torbert and Susan Klein (my girlfriend). The two Daves went on to form the New Riders of the Purple Sage. At that time, with John Tomasi, they were in a band called the New Delhi River Band. The light show and the band were a kind of package deal. All that summer we worked down at San Jose at a dance hall where, if I recall, Van Morrison and Them were also performing nightly.
It is too complicated to tell but for various reasons I idolized the Pranksters. Of course, because of Kesey. Cuckoo's Nest had been a powerful read, several times over. But there was egotism, too, in that my own experimentation with psychedelic drugs had begun several years earlier. In 1966, everyone was on the drug bandwagon. I felt myself to be "like Kesey," an early drug user. In retrospect it seems so idiotically silly. At the time it made sense, but Neal Cassady made sense, to himself, anyway. So, having formed a friendship with one of the Pranksters, whose name I quite forget, who spent a lot of time at Channing Way, and who injected himself every day with methedrine, I thought it would be very cool to inject myself with methedrine.
Of course, the Pranksters didn't stop at intravenous injection of methedrine. Inravenous injection of LSD was very fashionable, in that set. So I began doing that, too. It meshed rather nicely with doing light shows. Whatever other truths can be gleaned from those days, I know now that methedrine is a regular recipe for psychosis. My life was soon in ruins.
Oh yes, the movie. Kesey's Año Nuevo movie. Yes, of course I was there, I was in the movie, as was my driftwood cabin, which became the Princess's house. The Princess was this gorgeous blonde, maybe nineteen years old, who went by the name of Summer. Kesey and the Pranksters were dragging her off into the dunes at every opportunity. Summer was a very free spirit. There were a lot of people running around with no clothes except maybe a tie-dyed headdress or some such thing. I was one of them. So was Summer. So tan, so pretty. Pete Moss's Tower was in the movie, and perhaps even Bigfoot's remote driftwood cabin, in a deep hollow nestled within the very highest dunes, on State Park land. Summer and Bigfoot became an item.
Neal Cassady had already died, at that point, I believe. It must have been June of 1970?
Bigfoot and Pete Moss and I were the only ones who actually lived there in the dunes during those years. We had so many jam sessions; Bigfoot had a couple of conga drums, Pete Moss his sax, and I played guitar, or sometimes a conga. Bigfoot tended to wear only leather pants, thick leather pants roughly made, with little bones and seashells and magical items tied on with little leather thongs, here and there. He made beautiful little sculptures from soapstone. He wore his hair in an Afro and was a very nice young Italian American man, from San Mateo, who had magically become an African American shaman, or so it seemed. He also had bones and shells tied into his Afro.
Since wrens are my totem bird, and at Año Nuevo there are Long-billed Marsh Wrens, Bigfoot carved me a fine little bas relief of a marsh wren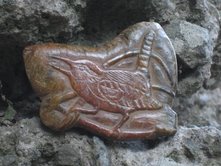 with a geometrical figure on the obverse, since geometry was a passion even then. I still have that carving. Somewhere.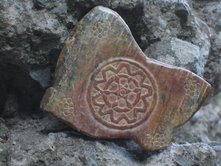 Yes. To find things. Guided by my wrens, or whatever, I do find things. It was a matter of some pride. Others would find the beautifulshards of chert in the dunes, I would find the arrowheads. Etc. etc.
Later, in 1973, or 1974, I returned from Grass Valley, in the Sierra, to visit Año Nuevo and Janet and Merrill, and also stopped in Santa Cruz to visit Bigfoot. He was living in an old Victorian house which was up on jacks, so a contractor could put a cement foundation under the thing. Piles of dirt lay near the front door. We stood there and conversed. I launched into the story of a magical finding: I had been digging a foundation trench in the Grass Valley area, and right beside me a fellow worker suddenly exclaimed, "What is this?"
He held up a little white sphere. I was so jealous. It was an antique marble! And not only that, it was a marble marble, and had been used so much it had got out of round!
Just as I sang out the phrase, "marble marble," Bigfoot reached down to the dirt at our feet, and picked up, bizarrely, a marble marble.
So you see there were strange forces at work.
PM:  I am certain I met one or more of the characters living at AN. I don't think  it was you. In my mind, I see a large, healthy man, maybe shirtless. He had something to do with the driftwood sculpture along Highway 1. We, John and I, walked around AN often during a short period of time. We surfed there–which, in retrospect, I find horrifying. It was even my idea!! There was something on the beach, on the sand, living quarters built out of wood; that's what I'm remembering in my mind.
RT: Ah, that rings a distant bell. A large shirtless man. But I can't recall who he was. That would have been later, I was there 1970-72, and then again in late 1976 and 1977. Janet and Merrill attracted quite a flock of artistic visionary types to their Año Nuevo home. I disapproved of most of them. Some were great. Joe and Wendy Lysowski were very nice, but it could hardly be said to count for much that, say, Ken Kesey had complimented my guitar playing, or that I had met Jerry Garcia before even the Warlocks existed, and Pigpen, too, for that matter–how could this count for anything, when Joe and Wendy had been at the Maharishi's ashram in Rishikesh during the whole time the Beatles and the Beachboys had been there, and knew them all personally! They could trot out stories about John and Paul and George like nobody's business!
Ah, so nice, though, Joe and Wendy, living in their garishly painted van. They gave me sculptor Ron Boise's old Honda Dream motorcycle, bored out from 300cc to 350cc, and they gave me some ancient windows from a Santa Cruz Victorian, curved at the top, which even to this day live on in my hexagonal cabin. But I lost touch with them long long ago.