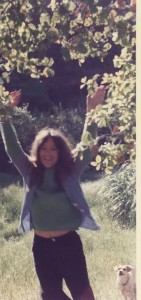 June: I was so shocked at the hard reality of Russell Towle's sudden death by horrific car accident. Knowing a little of Ano Nuevo in the 1970s, having visited there often as a college student before the state took over,  it was thrilling to learn that Russell had actually lived there. Built a rustic cabin in a remote place few dared to set foot on because of the harsh weather. That he knew all these fascinating characters, some of them artists, who lived on the beach, a story that grew stronger with the appearance of the scientists from UC Santa Cruz, there to study the huge, clumsy mammals, the sea elephants, that look like they came from another time.
Russell Towle's brief, bold stay at Ano Nuevo overlapped that of novelist Ken Kesey and his Prankster friends, whose headquarters was a rustic cabin in the redwoods of La Honda. The flip side of Ano Nuevo, which, in comparison, could be the moon. But the remoteness of the beach at that time was irresistible. Not too far from La Honda and what a fun place to make a movie, which Kesey & the Pranksters did. Russell remembered the "movie" and believed his cabin was in it, something he looked forward to seeing again because those years were magical for him. As they were for many of us, all around the same age.
The South Coast beaches were an aphrodisiac, so raw, so very real. And nobody was around. We were the lucky ones.
———————–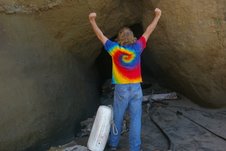 Words by John Vonderlin
Email John ([email protected])
Based on my viewings  of Russell's various webpages (blogs, photos, videos, geometry) I think his flurry of emails were in character but more intense then anything online. I attribute that to his finding a receptive, interesting and responsive audience at your blogsite. We really wanted to hear what he had to say and that made him enthusiastic to share. Recapturing an important, colorful time in his life obviously gave him great pleasure. I'd like to think the excitement of locating his film, and all the threads that were going to open up were echoing through his mind in his last days. Perhaps, he was planning another book about his adventures of that time, as I would have suggested to him shortly.
Part of my sadness at his untimely end was I'll never get to meet him, or absorb any of his extensive knowledge of the rugged wilderness that he regularly hiked and wrote about in his blog. I think we might have become good friends when my circumstances allowed.
I had so many questions about things he mentioned in his early rapidfire emails that I was waiting to get to. I had wanted to methodically move through them, covering the Ano Nuevo area thoroughly before moving on. Now they're lost.
I had thought he would be a good person to interview Harvey Mowry, and was going to suggest so, based on his email to you about visiting the old ranches and talking up oldtimers just for the enjoyment of it. The world has lost a good man.
I have this feeling that a Monty Parker style memorial may sprout near where Russell's driftwood cabin was in the dunes of "The Forbidden Zone." If I ever should happen to be hiking there I'm sure I'll take some pictures.