Story/Photos by John Vonderlin
Email John ([email protected])
Hi June,
I'd like to shout out a "Fore! Heads Up!" to all the folks in Half Moon Bay.  The Samsung World Championship women's golf tournament will be played at the Ritz Carlton's two world famous courses on October 2nd, 3rd, 4th and 5th. Your little town is about to have 5-10,000 people descend upon it, clogging your roads, hotels, restaurants, shops, and just about everything else.  I'm sure your reactions will vary from the unbridled joy many retailers, golf aficionados or "putting-us-on-the-map" Chamber of Commerce folks will experience, to the irritated exasperation of those who value the often unhurried, quiet lifestyle, and nearly empty beaches, living on the coastside usually provides.
I must confess, despite living on the wrong side of "over the hill," yet valuing highly the solitude I can usually find when I come to visit your beautiful coastside, I am thrilled about the tournament. But, for the oddest reason.
You see, lately, Neptune's Vomitorium has become active again, spitting out a few golf balls and remnants. For the last year, or so, despite coughing up many thousands of items of non-buoyant Marine Debris, golf balls & golf ball remnants have  greatly decreased in number amongst that bonanza. I attribute that to Meg and I having collected more then four hundred "fresh" golf balls from the reef below the 18th hole of the "Old Course," at the Ritz Carlton, during exceptionally low tides last year.
With a diminished supply getting caught up in the Longshore Current, and swept 15 miles south before being regurgitated by Neptune's Vomitorium, onto Invisible Beach, I fear that my collecting efforts there have been harmed.
At Neptune's Vomitorium, it's a lessened, "Garbage In/ Garbage Out" situation.
My "101 Tires" art project also seems to have been affected. By dragging nearly 80 tires off the beach at Tunitas Creek, many of which are still stockpiled there, I have interfered with the "natural" flow of tires southward.
I haven't seen a single tire in more then six months at Pescadero Point.
While I suppose it's better not to have a highly visited tourist spot scarred with old tires, the carry- up- the- hill is a heck of a lot easier at Pescadero Point than at Tunitas.  I've hoisted myself by my own petard as they say.
I don't think you'll see me braving the crowds during the tournament, but rest assured I'll be prowling the reef below the Sunken Cathedral in the days after, hoping to add a few of the professional's customized, personalized "lost souls" to my large collection. And, if they should slip away from me there, I'll keep my hope alive that they will successfully make the "Silent Procession" to Neptune's Vomitorium.
Attached are pictures of the 13 specimens I've found at Invisible Beach in the last two weeks. They're an excellent cross-section of the "regular" and "driving range balls", skins, cores and a "shrunken head" that I found.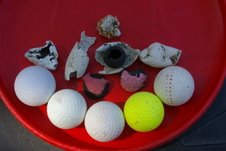 Check out the close-up of the  "shrunken head," the kind of eroded golf ball I value so much and like to use in my large collection of golf ball/natural wonder art.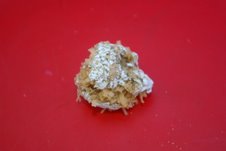 —————
For those curious about the tournament's history, as well as the origins of golf's more obscure jargon, here's what I learned.
The Samsung World Championship is an annual golf tournament, originating in 1980, for professional female golfers which takes place every October on the LPGA Tour. It is a limited player event, open by invitation only.
The tournament was founded in 1980 by Mark McCormack, founder of the sports management firm IMG, originally with the world's top-12 LPGA players. The field was increased to 16 players in 1996 and to 20 in 1999. Electronics manufacturer Samsung became the title sponsor in 1995.
Tournament names through the years:
* 1980-1984: Chevrolet World Championship of Women's Golf
* 1985-1989: Nestle World Championship
* 1990: Trophee Urban-World Championship of Women's Golf
* 1991: Daikyo World Championship of Women's Golf
* 1992: no tournament
* 1993-1994: World Championship of Women's Golf
* 1995-1999: Samsung World Championship of Women's Golf
* 2000-present: Samsung World Championship
"Fore!" is shouted as a warning during a golf game when it appears possible that a golf ball may hit other players or spectators. The mention of the term in an 1881 British Golf Museum indicates that the term was in use at least as early as that period. [1] The term means "look ahead", and it is believed to come from the military "beware before", which was shouted when a battery fired behind friendly troops.[2][3][4]
Other possible origins include the term being derived from the term "fore-caddy", a caddy waiting down range from the golfer to find where the ball lands. These caddies were often warned about oncoming golf balls by a shout "fore!".[5][6] The Colonel Bogey March is based on the descending minor third which the original Colonel Bogey whistled instead of yelling Fore around 1914.[7]
It may have also may have a contraction of the Gaelic cry Faugh a Ballach! (i.e. Clear the way!) which is still associated with the sport of road bowling which has features reminiscent of golf.
Bogey
One-over-par (+1). "Going round in Bogey" originally meant an overall par score, starting at the Great Yarmouth Golf Club in 1890, and based on a popular music hall song "Here Comes the Bogey Man". Nationally players competed against "Colonel Bogey" and this in turn gave the title to a 1914 marching tune
Birdie
One-under-par (-1). The term is believed to have originated during a game at the Atlantic City Country Club in Northfield, New Jersey in 1903.[1][2] It seems that one day in 1899, three golfers – William Poultney Smith, founding member of Pine Valley, his brother Ab Smith, and George Crump (who later built Pine Valley, about 45 miles away) – were playing together when Crump hit his second shot only inches from the cup on a par-four hole after his first shot had struck a bird in flight. Simultaneously, the Smith brothers exclaimed that Crump's shot was "a bird." Crump's short putt left him one under par for the hole, and from that day the three of them referred to such a score as a "birdie." In short order, the entire membership of the club began using the term and, since as a resort the Atlantic City Country Club had a lot of out-of-town visitors, the expression spread and caught the fancy of all American golfers
Albatross
Three-under-par (-3); also called a double eagle (even though it's technically an eagle-and-a-half). These are extremely rare, and occur on par-fives with a strong drive and a holed approach shot. Holes-in-one on par-four holes (generally short ones) are also albatrosses. The most famous albatross was made by Gene Sarazen in 1935, which propelled him into a tie for first at The Masters Tournament. He won the playoff the next day. The sportswriters of the day termed it "the shot heard 'round the world". Between 1970 and 2003, 84 such shots (an average of less than three per year) were recorded on the PGA Tour.[4]