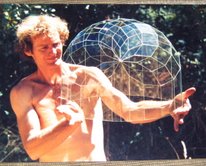 RUSSELL TOWLE TRIBUTE WEEKEND
October 11-12 • Dutch Flat, California
Please join us for any or all of these events. Children are welcome.
***** SATURDAY, October 11, 2008 *****
9:00 am, Dutch Flat Community Center: TAKE A HIKE!
Honor and remember Russ with a hike to one of his favorite places.
Destinations will depend on the weather, the number of people, and
hiking ability levels. Bring lunch. We'll return to Dutch Flat in time
for the Quesadilla Dinner.
12:00 Noon to 4:00, Dutch Flat, ongoing:
• Golden Dri* museum open, and featuring Russ's local history
publications, with Sally Towle.
• Art show (Russ's art and art he inspired) at the Community Center.
• NFARA (North Fork American River Alliance) exhibit and membership drive
• Story recording room — Record "Russell stories" and memories for
his family, and for posterity.
• Russell-inspired crafting, with Shellie Towle. (The "Russell Towle
Coloring Book"/Geometric model building/Make a "God's eye" / Make a
dreamcatcher…)
4:00 to 6:00, Dutch Flat Community Center: QUESADILLA DINNER. Open to all.
6:30, Dutch Flat Community Center: MULTIMEDIA PROGRAM
Featuring Russ's geometrical imaging work, computer animation,
music, artwork, and his fascination with the North Fork American
River Canyon. Also, short presentations by family and friends.
***** SUNDAY October 12, 2008 *****
9:00 a.m. to 11:30: VISIT RUSS'S FAMILY AT HIS HOME ON MOODY RIDGE
Come prepared to walk a bit If you are able—wear trail
shoes/clothes, and enjoy the paths and viewspots Russ has been
grooming on this 25 acres of magical canyon rim woodland for the 33
years he lived here. It is unfailingly beautiful here in October. Take
the Alta exit from I-80 (17 miles E of Colfax) and follow signs.
12:00 Noon to 4:00, Dutch Flat Community Center
SHARING CIRCLE, followed by a POTLUCK (vegetarian food please!)
Camping will be available Friday to Monday in Russell's meadow; and a
few Dutch Flat Hotel beds will be available Friday and Saturday night.
We can also arrange beds with local friends who have spare rooms.
Questions? Ideas for the Saturday evening program? Email
[email protected].
Donations to assist Russell's family may be made be made in care of
the family's attorney. Write "For the Russell Towle Family" on your
check, and make payable to:
Gerhard Stoll, Attorney / 425 California St. #1900 / San Francisco, CA 94104