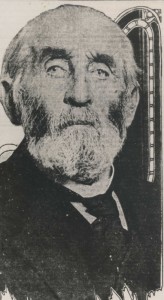 Dear June,
I just wanted to let you know how great it has been to "discover" my ancestor, Loren Coburn, while reading your book, "The Coburn Mystery."  I happened to pick up the book while at the San Mateo County Historical Museum in Redwood City last week on a whim, knowing that Coburn is a family name on my mother's side.  I checked out the stats in my Coburn genealogy book and sure, enough, there it was!
Loren Coburn born in Vermont, living in Pescadero!
This published genealogy book was the treasured book that my grandmother had researched and finally had published during her lifetime.  I have always been interested in family history so, of course, I was loved reading about Loren, Wallace, Loren's wives and their connections to the many places I have loved to visit while living here on the San Mateo Peninsula.  In fact, today, my husband and I went to Pigeon Point Lighthouse and enjoyed reading the historical information there, which included the famous gunfight.  Then we traveled to Pescadero, of which I have been to many times, and matched your book up to Coburn building sites, etc.  It was a lot of fun.
Thanks again!
Sincerely,
Connie Morgan
——
Hi Connie,
"…I am so glad you are enjoying the book and I am positive that the Pigeon Point lighthouse folks were excited and delighted to meet you.
I have been using an old, original manuscript of the Coburn story in my Pescadero  blog—that means I am detailing the story even more.
In my view, the story of Loren Coburn is a huge part of Pescadero's history.  It is certainly a unique story.
The Coburn's home once stood across the street from Duarte's Tavern in Pescadro. There have been fires but, inn a way, Pescadero hasn't changed that much!
Please stay in touch.
Best Wishes, June
————-
Hi June,
"… Thanks again for the opportunity to learn more about my ancestors.  I have learned so much over the years.  I have been able to research the Coburn (Colburn) histories while visiting the North Eastern part of the United States several times.  During these visits I have been able to visit old archival records of the families and have been able to locate significant grave sites.
I even saw what was left of the original Edward Coburn Garrison House in Massachusetts (circa 1670's).   Our line has been traced back to Edward Coburn (Colburn) who came to America from England in 1635 on the ship, "Defence."  He was 17 at the time.  It's been quite an education and your book now completes a chapter on the Western side of the United States.
It's been really interesting, to say the least!  Keep on writing!
Thanks again!
Connie Morgan