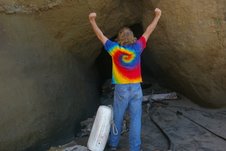 Story by
John Vonderlin
Hi June,
Here's an update about one of the "Holes in Pescadero."  Some time ago I posted a story called, "
The Hole in the Wall."
That's the hole in the rocky promontory that bounds
Pescadero Creek,
at the point it enters the ocean. I had originally thought it was "Pescadero's Pride and Joy,"  the most viewed
Sea Arch
on the coast. Then a friend told me, while looking at a picture of it on the California Coastal Records Project  (CCRP) site, that he and his partying buddies had called it  the "Hole in the Wall Beach," back  in the Seventies. And that it had been more obviously hand dug at that time.
Later, in a transcript from a Pescadero Oral History Project, several oldtimers made the same assertion. Giving up on it being a genuine Sea Arch, I  was still dubious that somebody thought it was a good idea to dig a hole through a cliff, hoping thereby to control the timing of the opening of the lagoon. In the attached picture ( Hole in the Wall) from the newly posted  2008 pictures from the
CCRP
website, (just shot in October)
the futility of man's effort is poignantly captured. As you can see, the small finger of the
lagoon
patiently waits for
Mother Nature
to accomplish things in her own way, just on the other side of the
sand-choked
tunnel. (marked by bars)
Here'is a photo of the Pescadero Creek bridge from inside the tunnel, shot when it is open,
as it is for a good part of the year. Its manmade nature isn't real obvious after years of crashing surf. However, earlier this year, while visiting
Four Mile Beach
, in Santa Cruz County, I photographed this obviously
manmade,
rectangular hole, in a promontory at the opening of  the creek.
This is the hole, both looking from the oceanside and the lagoonside. By looking at Picture #
6415
on CCRP you can see that this hole was also an attempt to relieve the lagoon behind it. I've attached a screen grab of the large file in which I've marked the location of the hole with a black bar.
That's a surfboard leaning against the cliff next to it. If this technique was used in at least two different watersheds, it must have had some success or the word would have spread. Nobody likes to be laughed at, and especially about something that would take so much work to dig and would last for decades as a reminder of your folly.
As I investigate the early history of the
Pescadero Marsh
, I hope I can answer the question of its utility, along with a few others. But, first I wanted to post about how researching "
The Stage Hole,
" led me to find out about the largest hole that never was in Pescadero. That's Part 2 of "Holes in Pescadero." Enjoy. John