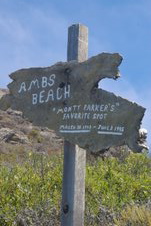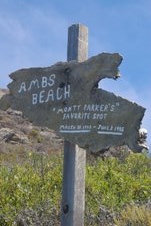 Email John Vonderlin ([email protected])
To read earlier "Monty Parker" posts, please click here
and here
Hi June,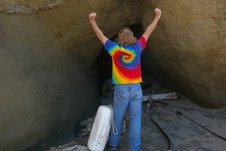 I was caught by surprise last week when out of the blue the following email arrived. To say it provided a heartwarming answer to a minor mystery that has been bugging me and others for quite a while would be an understatement. Enjoy. John.
**********
Hi John,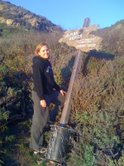 I am here to crack the mystery of Monty Parker, although I must admit it brings me a lot of sadness to be putting an end to his newly created cyber life.
Monty Parker was born in New Mexico under the name Alton Monty Parker.  The AM Parker that you found in New Mexico with the same birth date is most likely the mystery man you were looking for, but, the AM in the AMBS Beach sign does not stand for Alton Monty.
All the effort put into deciphering the meaning of AMBS beach was thoroughly amusing and I enjoyed all the effort and creativity that was put into your speculations.  I never thought of our sign as a mystery and its great to see my childhood memories of my father grow into a coveted story.
I am one of two of Monty's children and the rappel site used by the Merry Pranksters is the entrance to our "secret beach".  When I was about 6 and my brother was about 10, my dad took my brother and I to the "secret beach" for the first time.  He carried a thick and heavy rope down the poison oak filled path from Hwy 1 while my brother and I followed with our Golden Retriever Chelsea.  Then he attached the rope to the same stakes that are still there to this day and tossed it over the edge.  I don't remember being scared or nervous about climbing down the cliff but I think that is because my father never showed us fear and was constantly taking my brother and I on extreme adventures.   Then he lowered the dog down in a duffle bag and we all climbed down the rope one by one.  When we got to the bottom we started our exploration of every nook and cranny and this is when our passion for our "secret beach" began.  After that day no other beach would ever suffice.
We had about 6 years of adventures at the secret beach with my dad, but he didn't always take us with him.  On June 3, 1995, my dad and a few of his friends went abalone diving at our "secret beach".  Monty was an avid diver and had been Navy Seal trained so he was a very capable swimmer.  After their day had ended and his friends headed back up to the car, Monty went on "one more dive" by himself.  His friends reached the car and my dad never returned. After waiting for some time they went to find him which proved unsuccessful.
Hours later a surfer discovered his body up the coast. The autopsy showed he drowned although the cause of his drowning was unknown, and to this day, still unknown.  Only speculations have been made about what could have caused Monty Parker, a very capable and experienced diver, to drown.
I am not exactly sure, through all the chaos of my father's death, who put up the sign, but I think it was my father's friends that were with him that day. The sign was put there shortly after my father passed and over the years began to be overgrown.  I hadn't been back to our "secret beach" for over two years now and I was overjoyed to see that it had been moved to a more accessible spot and that it had been cemented.  Thank you, from my entire family, to whoever put the time and effort into preserving my father's memory.
And for the meaning of the sign… AMBS beach is an acronym for my immediate family names: Ashaleigh (me), Monty (my father and the "mystery man"), Brandon (my brother), and Sherry (my mother).
There is a lot to the "mystery man", his life, and his death.  He set off on numerous adventures over his 48 years and made thousands of friends.  I only know a small portion of his tales and am amazed by every one.  Its nice to know that I could fill in the blanks of at least one of his adventures though the adventure of our "secret beach" seems so plain compared to the escapades he faced before I was born.
In conclusion, your mystery man was an adventurer that never turned down a challenge and always kept people on their toes.  There was no whining allowed and no time for sitting around. He constantly pondered the purpose of life and was always trying to learn more by doing.
I find it incredibly touching that my father's life survives in your thoughts and imagination and want to personally thank you for creating a new and happy memory for me.