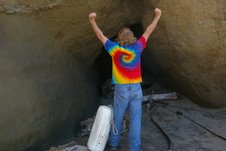 Story by John Vonderlin
Email John ([email protected])
[ Angelo Misthos & John Vonderlin want to find original surveys showing the route of the Ocean Shore Railroad.]
Angelo to John
Hello, John and thanks for your email.  I found the attachments interesting, especially the ones showing the tunnel at Pescadero beach,,  Seems in the location I'd found it years ago.  I never could see light at the other end so figured the bore never went completely through. Never found OS literature on it.  We went to see son and family in So. Cal. last weekend, and I'd intended to detour via the Pescadero and San Gregorio beaches, but it was late and never made it. As for grading route maps that might resolve the matter, I believe the (former) California Railroad Commission required route surveys for every railroad that planned a route in California. Whether the OS's still exists or whether it would be specific enough to settle these issues, I don't know.  I am going to write the Public Utilities Commission (successor to the R.R. Commission) to ask about this and if the record still exists, whether publicly accessible. Wiill advise what I learn.  Incidentally, is the Coastsider a print newspaper  or online newspaper or both?   Angelo
——-
John to Angelo
Hi Angelo,
I think the Coastsider is just an online entity. Those are some good ideas you have about finding out about OSR surveys, plans, etc. I hope they pan out. I've attached a ScreenShot from a document in "The Last Whistle," that concerns the stretch we've been talking about. I would really like to know where they had planned on building the line from Tunitas to Scott Creek Junction. The fact the chart has hundredths of a mile makes me think it was from survey data. Note that from Palmer Gulch to the San Gregorio trestle was 1.02 miles. Maybe that will be useful in figuring out the route between those two points. This is going to be a great mystery to unravel. Thanks for your help. Enjoy. John
P.S. I gave the wrong number for the California Coastal Records Project picture that shows the "little face." The right  number is #198640287 not #7218039 as I wrote. Sorry. They are both of the same area, but only the straight down shot shows the anomaly.
uuuuuuuuuuuuuuuuuuuuuuuuuuuu
Hi June,
This short article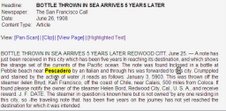 from the August 10th, 1904, issue of "The San Francisco Call," doesn't help much with solving the mystery of where the Ocean Shore Railroad's proposed route through the southern Coastside was going to be, but it does provide a small piece of the puzzle and a name that might be useful. Surveys were made, routes were planned, papers were drawn up, but where are they? and what do they say? Enjoy. John
August 10, 1904 The San Francisco Call
Southern Pacific Makes Survey
Another railroad survey is being made from the upper Lorenzo to the Pescadero Creek section at the northern end of the county. The work is in charge of Engineer McLeod of the Southern Pacific Company.
^^^^^^^^^^^^^^^^^^^^^^^^^^^^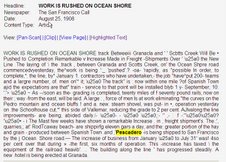 Hi Angelo,
Here's an article from August 25th 1908 about the OSR's progress. In reading about the new steam shovel they had, I wonder if that was the purpose of the sluicing at San Gregorio? I know virtually nothing about 1900 grading and roadbuilding methods. I've got a few other articles that relate to this time I'll send soon. Enjoy the rain. John