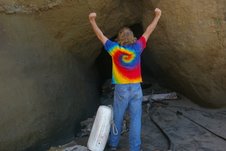 Story by John Vonderlin
Your posting about Tunitas oil drilling gave me the term "Bella Vista Oil Syndicate" to search. It's Tunitas' most famous citizen, Creed Haymond, who was the former owner of the ranch. I'll follow this thread out as I have other articles about the Tunitas oil wells, the refining in  Half Moon Bay, shipping on the OSRR, etc.
In an unrelated matter, in one of the Tunitas / Gordon's Chute articles I sent you, the writer mentions the "Tunitas," plant from which "Don't Eat Us Beach," gets its name. He describes the plant, something I had not seen before. Do you have any idea of what plant it could be? I'm going look around and collect a few specimens the next time I'm there.
Lastly, Neptune's Vomitorium, has remained choked by sand because of the lack of big storms/waves to move the sand offshore. As Maverick's goes, so goes the non-buoyant Marine Debris collecting I guess. However, after Burt's Memorial, we were running a little late, almost didn't, but did make a quick hike there, to find it is stirring. It produced a thin line-up of "the usual suspects," but not from the main "throat," but rather from smaller breaks in the reef  that occasionally produce something. With the large waves that we had Tuesday night, I'm going to try to check it out in the next few days if everything is stable here. Enjoy. John