[Image: L-R: Bill Hewlett & Dave Packard after WWII.]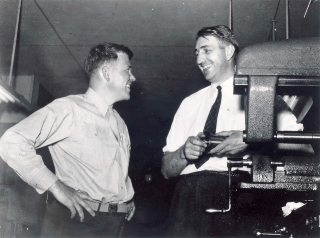 A History of Hewlett & Packard
An old-new story by June Morrall
In 1963 William R. Hewlett and David Packard made Fortune magazine's list of America's "Centimillionaires," millionaires 100 times over.
The enormous success of the former Stanford University electrical engineering students began in a modest one-car garage in Palo Alto in 1939—the birthplace of Hewlett-Packard Co.
Born a year apart—Hewlett in 1913 and Packard in 1912—the pair met as classmates who tinkered with devices in the engineering department laboratories at Stanford. Playing varsity football sharpened their sense of competition and teamwork.
After graduation, Hewlett entered the Massachusetts Institute of Technology and Packard took a "safe" job with General Electric at its Schenectady, New York labs.
Stanford engineering professor Frederick Terman acutely felt the loss of Hewlett and Packard as he had taken a special interest in the two young men. Terman, son of the developer of the famous Stanford-Binet Intelligence Quotient (IQ) test, tired of losing so many of his gifted engineering students to the East Coast, where employment was more readily available.
Committed to stemming the "brain drain," Terman obtained electrical engineering fellowships for Hewlett and Packard in 1938, successfully luring them back to Stanford.
In an electrical engineering seminar led by Terman, Hewlett designed the circuitry for an audio oscillator, an electrical instrument that tested sound equipment. Although other oscillators existed, Hewlett's model surpassed them all in every respect.
For these reasons, the visionary Terman saw great commercial potential in the new oscillator, urging Hewlett and Packard to manufacture the devices in Palo Alto.
As the course of their lives changed, Packard, who hailed from Colorado, met Lucile Salter on the campus and the couple soon wed. Hewlett, the son of the dean of the Medical School, married graduate student Flora Lamson.
Encouraged by their mentor, Professor Terman, Hewlett and Packard started their business on a part-time basis in the one car garage behind the apartments they rented on Addison Avenue in Palo Alto in 1939. Lucile Packard pitched in as the company's secretary.
Terman had a surefire test on the progress of his students' business enterprise.
"If the car was in the garage," Terman said in a 1973 interview, "there was no backlog. But if the car was in the driveway, business was good."
By 1940 the new firm expanded into part of a cabinet shop on El Camino in Palo Alto. At the outset, HP, as the company was called, focused on developing high-tech products sold mainly to other companies, rather than directly to the consumer.
One of the engineering student's first big was to Walt Disney Studios, which purchased eight audio oscillators for the soundtrack of the 1940 Academy Award-winning animated film, "Fantasia."
Terman, later vice president of Stanford, initiated the practice of exposing young scientists to the world of commerce, and promoted collaboration between the university and fledgling high-tech companies.
In the 1950s  hundreds of acres of farmland owned by the university were leased to high-tech companies on very favorable terms. HP, manufacturing electronic test instruments sold worldwide, led the parade into the newly developed Stanford Research Park.
Terman stopped the "brain drain," demonstrating that the university's most promising students could find work close to their homes on the beautiful Peninsula, free of sooty smokestacks and old factory buildings, symbolic of decaying East Coast industrial areas.
William and Flora Hewlett chose to reside in Palo Alto with their five children. David and Lucile Packard , and their four children, lived on acreage in the Los Altos Hills, surrounded by luscious apricot orchards.
An outdoorsman, Hewlett enjoyed skiing while Packard chugged around his orchards atop a trailer, or puttered in the vegetable garden.
The Peninsula's easy lifestyle carried over to HP's workplace, contrasting with the East Coast's rigid formalities. At HP, there was a sense of openness, office dress was casual and everybody was on a first name basis.
Both Hewlett and Packard became trustees at Stanford University. But David Packard was singled out for government service when he accepted the nomination as U.S. Deputy Secretary of Defense in President Nixon's first administration in 1969—a time when the Vietnam War bitterly divided the country.
Before the Senate confirmed Packard, Tennessee Sen. Albert Gore challenged the appointment, charging that Packard's $300 million worth of HP stock presented a conflict of interest, as the company did business with the Pentagon and defense contractors.
Following precedent, Packard placed the stock into a charitable trust: the dividends benefited the Castilleja School Foundation in Palo Alto, Menlo College, the Stanford Children's Convalescent Hospital and other worthwhile institutions.
Packard's tenure as deputy defense secretary during the Vietnam War was rocky, and he resigned three years later. Bill Hewlett was also a target of the anti-war movement. Then president of the electronics firm, Hewlett faced death threats in 1969; his Palo Alto home was firebombed two years later.
While Packard gave speeches at local Republican political events in the 1970s, often heckled by anti-war protestors, HP was becoming an important manufacturer in the exploding area of mini-computers and calculators.
In 1972 HP introduced a sophisticated handmade calculator with a $395 price tag; every young accountant and engineer yearned for one and the product had no serious competition for two years. What followed was a pattern the consumer has grown accustomed to: the price of calculators dropped to $20 or even less.
Co-founder David Packard died in 1996; William Hewlett passed away 2001.
—————————————-
[In the story above I mention Dr. Frederick Terman. Terman's father was Dr. Lewis Madison Terman, credited with developing the IQ test. Below is his story.]
Before the work of Dr. Lewis Madison Terman the two letters IQ meant little to anyone. But by the time of the psychologist's death in 1956, the world-renowned intelligence test expert had so popularized the abbreviation of intelligence quotient that it was a household expression.
As part of his legacy he launched a pathbreaking continuing long term study of 1,528 super-bright California school kids in the early 1920s. With the assistance of teams of researchers, Terman's project was the first of its kind. His ambitious goal was to track the ups and downs in the lives of precocious kids with IQs above 135, from age 10 through maturity and beyond.
Terman's educational background prepared him well for what became his life's work.
He was born in Indiana in 1877, attended Indiana University and received his doctorate from Clark University in Massachusetts in 1905, the only place in America where Sigmund Freud, the famous Viennese psychiatrist, visited and spoke.
Clark University was in the forefront, staying abreast of the latest ideas in psychology, especially child psychology. This exciting atmosphere helped shape Terman's future academic career. It was there that he was most likely influenced to debunk the widely popular belief that brilliant children tended to be sickly and anti-social.
Young Terman was deeply interested in the work of 19th century French psychologist, Albert Binet. The author of a book of 35 tests published in the early 1900s, Binet was credited as the founder of intelligence tests.
But the two men approached intelligence testing from opposite directions. While Binet hoped his tests would ultimately be used to detect slower children needing special classes, Terman was setting his sights on the study of gifted kids, believing they needed accelerated programs.
Before coming to Stanford in 1910, Terman taught at high schools in Indiana and Southern California. Four years later he was named an associate professor of education at Stanford and a professor of psychology in 1916.
That year, Terman's book, "The Measurement of Intelligence," was published, quickly becoming the "bible" of child psychologists everywhere. "The Measurement of Intelligence" showcased 90 different tests whereby the child's performance could be judged against a mental age. For example, a 6-year-old who scored at an 8-year-old's mental level, graded high.
Scores above 135 represent the top 1 percent of the population, often considered genius.
Terman's book inspired the famous Stanford revision of the Binet Intelligence Test used throughout the country to determine a child's IQ.
The important book brought Terman welcome recognition, and during WWI he served as a major with the surgeon general's staff, helping revise the Army's intelligence testing program.
It has been said that Alfred Binet gave his own children the IQ tests he was developing, and years later when Terman had settled down to academic life at Stanford he had done the same with his offspring.
Regarded by all as a good-natured fellow, Terman once joked that his own children were always a bit bored with the tests.
"The would say, figuratively speaking, Terman recall in a 1937 interview, "Ho hum! Here comes Daddy with some more of those nutty questions! We'd better humor him, though." He quipped that he had better luck with his grandchildren who came running and begged for more tests."
Certainly Terman's son, Frederick, who was born in 1900, was prototypical of the precocious lad who grew up in the privileged university campus environment. He knew the names of all the birds, a challenging feat for older boys, and by the time he was a teenager demonstrated a strong talent for science, especially radio, constructing his own set enabling him to communicate with ships at sea. (During WWII, he operated a radio lab at Harvard mandated to confuse enemy radar.)
Terman was proud of his son, Frederick, who received degrees from  Stanford and  the Massachusetts Institute of Technology (MIT) before joining Stanford's electrical engineering faculty in 1925. Later, Frederick became chairman of the engineering department and provost of the university.
He encouraged students like William R. Hewlett and David Packard to develop their innovative ideas. Considered the prime mover behind Northern California's place at the center of the electronics revolution, Terman helped students turn their scientific theories into real-world products –and to locate their facilities at Stanford Industrial Park, close to the university's classrooms and labs.
By 1937 Lewis and Frederick Terman were one of the few father-son members of the National Academy of Science. Lewis Terman's study of gifted kids was first born at Clark University but later kindled at Stanford where the psychologist became known as 'the man who measures minds."
The long term he started up in the early 1920s involving the 1,528 California schoolchildren with IQs above 135 closely monitored the lives of the "Termites," as they were sometimes called, and would evolve into a record-breaking project.
The timing was right for Terman's study. In the 1920s Americans were mesmerized by everything scientific, and psychology, the youngest "science," seized their imaginations.
A regimen of regular testing and personal interviews, conducted by researchers, followed the "Termites," eliciting information about their careers, health, marriage, social life and more. When the study began, no one could have anticipated that this group would live through both a Depression and WWII.
Although the names of the test subjects were kept under lock and key, over the years there were rumors that among them numbered a famous movie star, a science fiction writer and an Academy Award -winning motion picture director.
When Terman became professor emeritus in 1942, his experiment had set a record for a long-time study of schoolchildren. In a speech before members of the National Vocational Guidance Center in San Francisco, he divulged the following data collected about his "kids."
1. Basic intelligence has little to do with the ability to make money–some with the highest IQs had relatively little earning power.
2. The divorce rate of 11 percent is perhaps a little below the average of comparable age in California.
3. The unemployment record throughout the depression was low for this group. Those who could not find the kind of jobs they wanted nearly always managed to get something to tide them over.
4. Housewives and women who are in the job market differ little in intelligence scores, those doing office work rate no lower than those in professions.
5. After school days were behind them, the vast majority of women ceased to compete with men in intellectual pursuits. Women who accepted employment outside the home wanted cash more than a career.
Five years following Terman's speech, "The Gifted Child Grows Up," the fourth book in a series, was published by Terman and Melita H. Oden. Terman concluded that gifted children had a much better chance of an effective life upon maturity, both socially and economically, but that there was little tendency for them to get rich or attain celebrity status.
While 90 percent of the gifted group entered college and 70 percent graduated, their average income was not "spectacularly superior," according to newspaper accounts.
As to the state of their health, they were healthier and had a lower death rate than average.
In an interview, Terman said he had discovered no Newtons, Galileos or Darwins among the 20 or 30 young scientists in his group.
"The group includes several authors of promise," he said, but no prospective Shakespeares, Goethes or Tolstoys. Nor were any future Rembrandts detected among the artists or an Lockes or Kants among the philosophers.
As time passed, Terman's unshakeable belief in the special status of his gifted kids and the intelligence that defined them was often challenged. He sharply disagreed with Allison Davis, a professor of education at the University of Chicago, who insisted IQ tests were invalid, meaningless and no representative.
Terman was working on the fifth volume in the series on his study when he fell ill and died at age 79 in Palo Alto in 1956. Since Terman's death, his monumental thesis continues to be monitored at Stanford. [As of 2000.]
Lewis Terman was a member of the National Academy of Sciences, the American Academy of Arts and Sciences and the Philosophical Society. He was an honorary member of the British Psychological Society and a fellow of the Educational Institute of Scotland.
An article by Daniel Goleeman in the February 1980 "Psychology Today" magazine, and his later blockbuster book, "Emotional Intelligence," together bring focus and controversy to the subject of testing.
IQ tests remain a hot button issue and continue to be widely criticized for being invalid in determining ability and future intellectual accomplishment. Some educators and psychologists have also contended that IQ tests create rivalries between race and the sexes.
Today, there is a tendency to treat the subject of intelligence testing with extreme caution.
However, these criticisms do not detract from Terman's work at Stanford, and the "granddaddy of all life-span research" may yet provide greater insights into intelligence when the last "Termite" dies and the final are written (unless they have already been written.]
[more coming later]