Story by John Vonderlin
Email John ([email protected])
Hi June,
With my opportunities to explore the Coastside so limited these days, I was quite pleased on a recent trip, when I discovered some of the more interesting  geologic, coastal mini-wonders I've seen in quite a while. Included in these were a new type of sea arch, a wonderful tafoni-etched concretion, mounted like a jewel in a sandstone setting, and a rock, fillegreed with the deepest tafoni-within-tafoni I've seen.
But, what was most satisfying about my discoveries was that they were all hiding in plain sight, just yards from a very popular blufftop trail. In fact, it was that blufftop trail that had brought me to the area this time. I had heard the Pebble Beach to Bean Hollow Beach blufftop trail had been renovated recently, with repairs to footbridges, lots of new gravel and erosional control features on the paths, and new interpretive signs. And so it had been.
This trail is already popular with tourists, as well as native plant and flower enthusiasts, because of its great diversity, ease of access, and the stunning background of the rugged coast, with its small seal rookery.  For those not familiar with this area, the California Coastal Records Project website has great pictures of the Bean Hollow to Pebble Beach stretch,  (Pictures #6278 — #6281) with #6281 encompassing the area of the mini-wonders I'm describing.
If you wish to explore this series of oddities you need to pass "Sandy the Seal," a pareidolic sandstone seal, that guards the northern access to them, in the cove furthest to the left in Picture #6281.
Sandy the Pareidolic Seal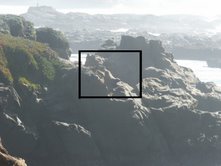 Just beyond Sandy, as you climb across the precarious cliffside, is Peacock Rock, a large spherical concretion, filligreed with a complex of tafoni holes in a peacock-tailspread imitation. Note in the picture from behind how the concretion is almost like a gem mounted in a setting. Note too, the strange ripples in the dark material that forms the base under the concretion. It reminds me of some confectionary event, that I can't quite recall. I believe the weight of the concretion as it formed in a saturated layer of sand created the squishy look of it, but I'm not sure why this feature is so rare.
Peacock Rock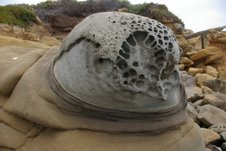 Peacock Rock close-up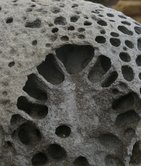 Peacock Rock Rear View (below)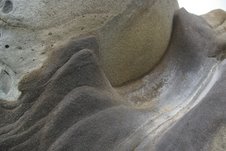 and Close-up base of concretion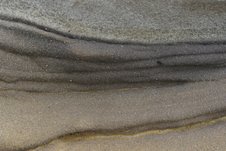 Just south of Peacock Rock are strange slabs of hard, brown rock that seem to be of volcanic origin, in contrast to the sandstone found everywhere else along this stretch. Just a few feet further along, a layer of this type of rock forms a type of arch I've never seen along our coast.  It is the hard capstone, lying atop the softer sandstone that has been eroded away beneath it, that forms the arch.  Note the ice plant dangling across the arch's opening. This is the only coastal sea arch I know of that has this feature. Because of that I'm naming it "Ice Plant Arch."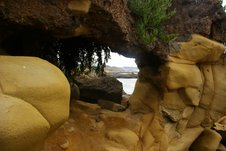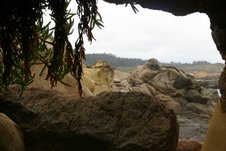 Along with all of these oddities in this stretch are numerous other tafoni structures and a few other concretionary features. Amongst those are deep, tafoni-in-tafoni specimens and a simple example of the rare boxwork type. All things considered, this certainly rates as one of the best fifty feet of coastal geology I know of, and the relative ease of access to it, makes this a two-thumbs-up destination. Enjoy. John
Close-up Tafoni-in-Tafoni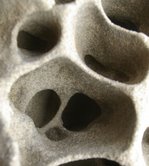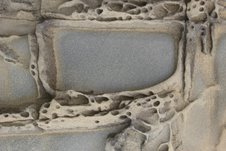 Boxwork