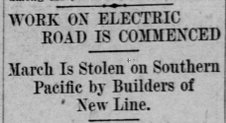 We've discussed what went on at the southern
coastal gateway to San Mateo through the years
a number of times, including the Ocean Shore rail-
road's minor construction efforts and major plans at
that location.  This short little article from the June 3rd,
1905 issue of the San Francisco,"Call," probably
is referring to the Alligator Rock  (Cape Horn) area
of the Waddell Bluffs. This might represent the
OSR's highpoint, as it would seem to have pulled
one over on the Big Bully of the Block, as S.P.
(Southern Pacific Railroad) was then considered
by many.
Though it turned out to be a meaningless
victory in the end, my guess is the OSR pro-
moters puffed their chests out and spoke with
pride about this maneuver for the rest of 1905.
Enjoy. John
WORK ON ELECTRIC ROAD COMMENCED
MARCH IS STOLEN ON SOUTHERN PACIFIC
BY NEW LINE
SANTA CRUZ. June 2. — The long
looked-for commencement work, in the
construction of the Ocean Shore Railway,
the new electric line which is to be built
between this city and San Francisco, be
gan to-day. A gang of thirty-five men
was put to work grading around a high
point at Waddell Creek. There is room
for only one railroad around this point
and the one which comes last must tun-
nel the hill.
The Ocean Shore engineers stole a march
on the Southern Pacific which has de-
clared its intention to build a coast line.
This leaves the Southern Pacific the al-
ternative of running its line up Waddell
Creek to Big Basin and around the hill
to Pescadero.