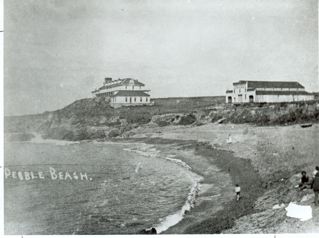 Loren Coburn and Joe Levy had been feuding for a decade. During the 1880s, Levy and his brothrs, Armand and Fernand, had opened a general store in the old, two-story McCormick building, near the Swanton House, once a quaint hotel where Pebble Beach-bound guests often stayed overnight.
Not only did the Levy Brothers sell soft goods and hardware at the Pescadero location but there was a drug store, a Wells Fargo station, Western Union agency and a U.S. Post Office under the one roof. In 1885 Joe Levy was appointed the postmaster.
The warrant for Levy's arrest was telegraphed to his Pescadero store. Before pleading, he was released on his own recognizance.
Joe Levy's defense at the jury trial centered on the fact that people had traveled over the Pebble Beach's cow trail for 20 years., conferring upon it the legal status of a public road. By locking the gate, Loren Coburn had obstructed and denied the public's right to use the road. Levy contended that unlocking the gate amounted to appropriate legal action.
Following a tense trial, the jury agreed.
The local press reported that Pescadero residents traveled across the squiggly cow trail to Pebble beach where they held "mammoth picnics and seaside banquets" to celebrate Levy's victory.
The verdict intensified competition between the millionaire landowner and the popular businessman. When Coburn launched the People's Stage Lind, a new stagecoach business covering the San Mateo-Half Moon Bay-Pescadero route, Levy countered with a rival line, setting off a cutthroat fare war.
In Half Moon Bay, Coburn was at a distinct disadvantage. The popularity of Levy and his brothers assured them of good contacts in the horse stable business; fresh horses, water and feed were always readily available for them.
Coburn became more stubborn and willful, barricading the Pebble Beach again. Charles Pinkham was equally committed to keeping the gate open. Widely publicized, the locking and unlocking of the gate led to a severe drop in tourists bound for Pescadero and its famous Pebble Beach.
In a change of strategy Coburn laid otu a new, level road leading across his land to Pebble Beach–a road markedly superior to the bumpy old cow trail. Some locals wondered if the landowner had a change of heart; others knew Coburn better.
At the same time, the battleground switched to the floor of the state legislature. To protect their interests, Pescaderans asked Assemblyman John T. O'Keefe to introduce a bill dedicating Pebble Beach as a San Mateo County public park. O'Keefe did so, touting Pebble Beach as a great tourist resort, essential to Pescadero's economic prosperity.
While the 1893 legislation passed both houses of the legislature, it failed to provide for a public road across Coburn's land. To compensate, Pescaderans demanded that San Mateo County officials condemn a strip of Coburn's land as a public road.
Despite the official dedication of Pebble Beach Park, Coburn hired carpenters to build his hotel and a horse stable overlooking the Pacific Ocean. Ignoring the legislation, he tacked up a sign proclaiming his new road to be private and locked the gate one more time.
While officials dealt with the murky legalities, Coburn made it clear he had no plans to dedicate his road to the county. Responding to voters' complaints, the board of supervisors assigned County Surveyor Davenport Bromfield to survey the road situation at Pebble Beach in the fall of 1894.
Before Bromfield began the survey, Coburn's sign and the locked gate led to one final bitter confrontation. To stymie travel to Pebble Beach, Coburn had his men dig a three-foot wide, three-foot deep trench on the other side of the gate.
These were emotional times for Loren Coburn: While warring with his neighbors, his wife, Mary Antoinette was dying of cancer in their ramshackle Pescadero home on San Gregorio Street.
Word leaked to Coburn that the Pescaderans were on their way. Confidently waiting at the gate, he blocked the entrance with his single-horse-drawn buggy.
Joe Levy arrived in his buggy.
Harsh words were exchanged, according to documents in the San Mateo County History Museum's archives.
It was a standoff until Supervisor Henry Adair, accompanied by Roadmaster Charles Pinkham and 20 men, as well as Adair's rifle-toting teenage son, drove up in a large horse-drawn county wagon, equipped with a plow and a scraper. Besides reopening the gate, Adair planned to fill the trench with dirt.
In later court testimony, Coburn accused Adair of influencing people against him, also claiming that Adair swore to keep the gate open as long as he lived, whether in office or not.
The bitter struggle over Pebble Beach di not disappear. Coburn sued San Mateo County for damages, claiming his cattle had strayed as far south as Santa Cruz when the gate was opened. Restraining orders were issued, then reversed, with Coburn continuing to harass Pebble Beach's visitors.
Rather than a dramatic bloody finale, the struggle over access to Pebble Beach sputtered out. Today beach-goers can enjoy its wonders without worrying about a locked gate.
——————————————-
Charles McCormick owned a commercial  business on San Gregorio Street, today known as Stage Road. The McCormick building is featured in the photo on the front page of the pescaderomemories.com blog.
The following biography is from John  Vonderlin
James McCormack. (McCormick?) Mr. McCormack was born in Ireland in 1841, and 
when seven years of age came to the United States with his parents, who settled 
at Carthage, Jefferson county, New York, and afterwards at Rutland. He left 
280 HISTORY OF SAN MATEO COUNTY. 
New York City in December, 1863, for San Francisco, where he arrived Janu- 
ary 15, 1864. He located at Santa Cruz, where he lived until October of that 
year, when he came to Pescadero, where he has since resided, engaged princi- 
pally in the business of farming and dairying. In 1873, in company with P. 
G. Stryker, he bought the store of John Garretson, the business of which they 
conducted until 1877, when they re-sold to Garretson. While in partnership 
with Mr. Stryker he did not give the business his personal attention, being at 
that time deputy assessor and road overseer, and one of the agents of the Fast 
Freight Line from Pescadero to San Francisco. He married Julia S. Shaffrey 
January 12, 1866, their children being Alice A., Frances, Ella M., Florence A., 
James, Lilian E. and Julia.