From "Place Names of San Mateo County" by Dr. Alan K. Brown
Tunitas: The name has see occsional use in the last ninety or a hundred years as a designation for the ranching district at the lower end of Tunitas creek.
Tunitas Beach: (mouth of Tunitas creek) The older name of the placer is Potters beach, for the T.F. Potter ranch nearby in the 1860s and '70s. Apparently the present name was first used when the Ocean Shore Railroad had a bus stop here, in the 1920s.
Tunitas Canyon: (Up Tunitas creek. This is one of the group of canyon names around Half Moon Bay. For the first twenty years, until around 1870, the Americans called it Tunitas gulch.
Tunitas Creek: "A small bush…grows super-abundant at and near its mouth, and its fruit is known to the present generation as sea apples." The arroyo de las Tunitas (Beach-apples creek) is on two 1839 sketch maps. An alternative Spanish form without the diminutive, arroyo de las Tunas, appears in deeds of the 1850's, was sometimes translated into Tunas creek, and survives misspelled in the Tunis School. (The misspelling is said to be due to the fact that when the school district was set up, in 1866, the clerk who drew up the papers was unsober.)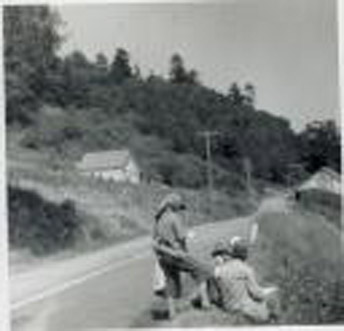 (Photo: Coastside artist Galen Wolf's students sketching the scenes along Tunitas Creek Road. To the left, you'll see the old, one-room Tunis School)
The East fork of the Tunitas (unlike most of the so-called forks on the maps has been so called for a hundred years. The upper portion was sometimes Harry's gulch, for Henry Trebilcock, an Englishman who had an orchard there for forty years from the middle 1870's. The Tunitas creek road was until recently still officially the Froment road: the Froment Mill interests built most of it in 1875, but ran out of funds in Smith Downing's barnyard. The county opened the last half through to the coast in the early 1890s.
more to come