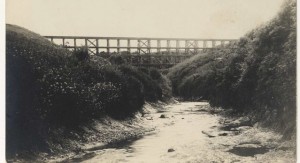 Hello June.
Some of your readers interested in the Ocean Shore R.R. may not know that efforts to resurrect it began almost as soon as it was abandoned. Jack Wagner's THE LAST WHISTLE is the best reference.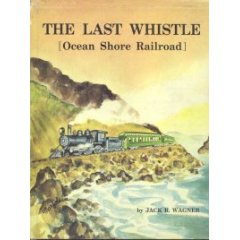 I recall several San Francisco newspaper articles during the 1930s; and as a teenager I got up the nerve to go to the company's office in downtown S.F. to inquire of its progress, and met the President, George Middleton. The office was shared with a mining company–either Alaska-Juneau Gold Mining or Bunker Hill. I can't remember and don't know of any relationship with the new OSRR. Mr. Middleton said the line would re-enter San Francisco by the old, seldom-used Southern Pacific's Ocean View line. That track was now in the heavily built-up Mission District where people in homes could practically shake hands with the engine crew if a train ever went by. I remember being skeptical that the City would permit it.
Apropos of that time, I have a copy of the December, 1935, issue of "Railroad Stories" magazine and the article "The Ocean Shore Comes Back" by G. H. Kneiss, which told of the expected rebuilding mainly to exploit the timber resources of the Butano Forest
close to the original route, but never reached. There are a number of court cases involving the OSRR from that time on the Internet, mainly dealing with the railroad's suits for incursions on its former right-of-way, some becoming precedents for other cases.
One of the more interesting is a 1941 appeal re an earlier decision about the injury from falling rocks in June, 1936, to a power shovel operator engaged by the railroad to clear the blocked north portal of the Pedro Point tunnel. A few months earlier the shovel had been "almost completely buried" by a slide at the south portal. I find it almost incredible how the shovel made it to the south portal. This was before Hwy. 1 had been re-routed closer to the coast, and so the shovel had to have taken the long route past Green Canyon and over Devil's Slide on a roadbed neglected for over fifteen years. What problems the operator encountered can only be imagined. Mr. Wagner's book chronicled how all these efforts came to naught.
Regards to John Vonderlin. Angelo