In an email to John Vonderlin ([email protected]), Bobbi Ballard Pimental said:
Hello John,
I'm Bobbi Ballard Pimentel and have just read a small portion of your story about he tunnels around Pescadero Beach. Don't know if you have learned anything since you wrote the article, but I have been in that tunnel as well as several others along the coastside.
My Dad, Robert (Bob) Ballard was born in Pescadero along with 11 other brothers and sisters….he took me to the tunnels on several occasions and told me that they were used to store guns and ammunition during the war. He helped 'build' them. I do not recall where the others were although I do remember that they were mostly on the water's edge, but there were tunnels and observations points high above Gazos Creek…there was a military facility there too. That, my husband and I discovered in the early '60's that there is (or was ) a missile base in the Santa Cruz Mountains…we found it by accident while on a Sunday drive with our first child…Dad had a lot of memorabilia that he received from the military personnel stationed in the Pescadero area…When the troops left the area (I was very young at the time..(born 6/6/42)…they left a Springer Spaniel dog behind…he became my pet…Billy. Dad told me that Billy was a horse, so I rode him like a horse when I was about 2…..Crazy!
There are fewer and fewer people in the Pescadero area who would remember any of the history of the Coastside. Hope you can get your answers.
I am a native of Pescadero and now live in Whitmore, Ca. (East of Redding). Some of my family are still in Pescadero though…on my Mother's side…Arcangeli Grocery/Norm's Market, owned by my Brother Norm Benedetti,
My Grandfather Sante Arcangeli built the grocery store in 1929. He died in the late '30's….before I was born.
When the war started, my Mother, Louise Arcangeli Benedetti and Uncle Mario (Fred) were running the store. Uncle Fred went off to war and Mom ran the store alone for a while…she married my Dad in 1940, got pregnant with me and in 1942 she sold the store to Bob Wilson.
When Uncle Fred returned from the war, he took the store back again…Bob and Saretta Wilson had 3 children, Bobby, Shirley and Rita..Shirley married my Brother, Norm Benedetti and two of their boys (Mike and Don) are currently running the store.
In 1948 Mom built Ballard's Dept. Store, just across the street from Duarte's. My Dad and his 11 brothers and sisters were all born in Pescadero..most on the Willowside Farm on Stage Road.
Just some local trivia…I have more. But enough for now.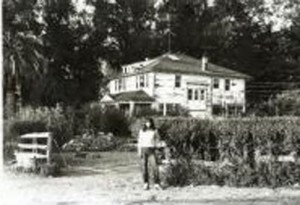 (Image: The Willowside Farm)
J
————–