By June Morrall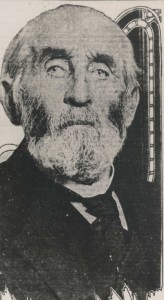 In 1872 the ten-year lease at PIgeon Point had expired and three years later landowner Loren Coburn still couldn't evict the men or get the property back.
Coburn's San Francisco attorney, William Craig, advised his client to pursue peaceful means; the law was on his side. The advice made plenty of sense but the men who had leased Pigeon Point didn't care about the law even though one of them, Horace Templeton, had been a judge.
That left Loren with one choice: the lawless way of the Wild West. Early on the morning of July 2, 1875 Coburn and four hired guns from San Francisco waited for Scotty Rae to leave his guard post at the gate. It was known that Scotty left for breakfast at 8 a.m. and as soon as he did Coburn's man, Wolfe took up the position at the gate.
You may recall that there was a shack on the other side of the gate. Inside was John Kelly, the telegraph operator. Wolfe and the others dragged Kelly out of the little building but he got away and ran to warn Scotty Rae.
Scotty was armed and he rushed back toward the wharf but Coburn's thugs barred the way. Raising his "Navy six-shooter," Scotty warned the men to get off the wharf. Similarly, Wolfe warned Scotty Rae to stay put.
Watching the scene unfold were several Portuguese whalers and somebody's young daughter; nobody interfered.
The argument heated up. Scotty didn't have a chance as shots rang out and the popular wharffinger slumped to the ground, mortally wounded, with one bullet lodged in his heart.
The news spread to Pescadero fast and you can bet the feeling in the village was intense. They liked Scotty Rae. Filled with outrage, a lynching party was organized but when they got to Pigeon Point, Loren, having heard about what was coming, escaped.
Soon after he and his gunslingers were arrested, charged with murder and brought to the jail in Redwood City.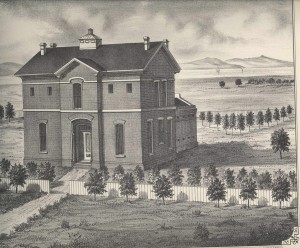 (Image: County jail in Redwood City, from the Illustrated History of San Mateo County, Moore & DePue, publishers, 1872. This is a pretty nice looking jail, don't you think?)
In town, Dr. Goodspeed, the county coroner, impaneled a jury of Pescaderans for the inquest. John Kelly, the telegraph operator testified that a number of shots had been fired, perhaps seven or eight. Five bullets were found in Scotty Rae's lifeless body.
Loren Coburn was within earshot the entire time.