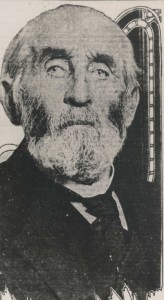 By June Morrall
The Coburns had spent two years back East and Loren's success in San Francisco became well known to his less fortunate relatives. They thought he was rich and that maybe he would share his wealth with them. It was worth the visit to the village of Pescadero.
Sarah Upton was the most welcome in what turned into a steady stream of Coburn's less affluent family members. Sarah was the sister of Coburn's first wife Mary Antoinette, who was still alive at this time. But her health and emotional state were fragile as she had just been diagnosed with terminal cancer.
At the opposite end of the welcome scale, was the Upton sister's brother, Marraton, a widower with a long white beard stained a yucky brown from spitting tobacco juice. The local kids called him "Whiskers," and tossed rotten eggs at the old fashioned- frock coat covered figure shuffling from one saloon to the next.
Marraton was a drunk, a pretty harmless character, who, when inebriated, which was most of the time, talked too much, most of it gibberish.
"Whiskers" was an embarrassment to Loren who didn't drink or smoke. Loren was all business. He would have paid someone to spirit his brother-in-law away but he didn't want to upset his beloved wife, instead he found work for him at the newly opened Eureka Stable. (I don't want to believe this, but as the story goes, Marraton did some of the accounting.)
Marraton was close to Coburn, possibly privy to decisions, and it is said that the boys in town wanted him to drink more than he should because, as Coburn's stable bookkeeper, he would forgive or forget all debts.
Marraton had been married twice, once in 1854 to a Susan who bore him two children; both died and Susan passed away eight years later. He married again, this time a widow, also called Susan. When she died, Marraton wandered west and worked as a merchant in the Carson Valley, Nevada. He couldn't make ends meet and headed back home to Fitchburg, Massachusetts before joining up with the Coburns in Pescadero.
He, along with Ah Gee, who worked as a servant in the Coburn household, looked after Wally.
Marie Antoinette, Sarah and Marraton Upton now lived together with Loren in the Pescadero house. Next to arrive, and move in, was the Upton's sickly sister Anna Celestia. She was in her 50s, ill most of the time, and she hated Loren Coburn. She was a bit odd and enjoyed taunting Loren by saying she was going to send him to Agnews, then a well known "insane asylum" near Santa Clara.
The Uptons and the Loren Coburns sat down for meals together in the small dreary dining room reportedly dominated by a very big safe rumored to hold lots of cash and stacks of gold coins.
Now that all the Uptons were in town and Loren's brother, J.C., wife, Lucy, and adopted son Carl lived across the street, Lemmuel Coburn showed up. Lemmuel was Loren's successful brother, a well respected businessman from Holyoke, Massachusetts. He was in the sliding door business, manufacturing door hangers.
"The hangers are far ahead of any yet seen here and will be used on outside doors," commented the San Mateo newspaper.
Lemmuel brought along his son, Arzo, who had played with Wally when they were youngsters.
And then came another one of Loren's brothers, Alonzo Coburn, who was a widower, suffering from a serious illness. Thankfully, Alonzo moved in with the J.C. Coburn's across the way from Loren because, by this time, life for Loren Coburn had become, as he himself said, "a perfect hell."