Story & photo by John Vonderlin
Email John ([email protected])
At the end of yesterday's coastal adventure, first visiting the new Interpretive Center at Ano Nuevo, then using Mr. Mowry's book

to look for old lumber mill sites in the Gazos Creek watershed, we hiked down Invisible Beach to Neptune's Vomitorium, to collect more non-buoyant Marine Debris.
It was foggy to the point of drizzling, so I left my camera in the car. When I saw this unusual piece of Ephemeral Beach Art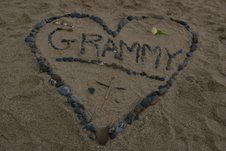 I decided I had to capture it before it disappeared.
So, when we returned to the car, despite being dog tired, I grabbed my camera and jogged back to get a few shots. I'm not sure if the two driftwood sticks, formed into a cross, indicate Grammy is no longer with us, but I salute the love these anonymous grandchildren must have for her. It's a nice variance from the typical heart in the sand that celebrates a young couple's misty love. Young love may fade as fast as the tide changes, but Grammy love is something you'll carry with you forever. Enjoy. John