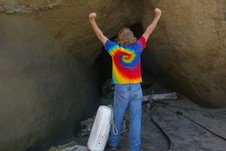 Email John Vonderlin ([email protected])
Hi Russell,
I was just looking at some of your geometric creations on various websites. Pretty amazing. I'm afraid my lack of knowledge of your specialty makes the jargon seem like a foreign language though. I thought it interesting that two of your main interests revolve around different definitions of topolgy. Number 1 and 3?
Topographic study of a given place, especially the history of a region as indicated by its topography.
Medicine The anatomical structure of a specific area or part of the body.
Mathematics The study of the properties of geometric figures or solids that are not changed by homeomorphisms, such as stretching or bending. Donuts and picture frames are topologically equivalent, for example.
Computer Science The arrangement in which the nodes of a LAN are connected to each other.
About the only place I venture into such esoteric territory involves my natural(?) knot collection.