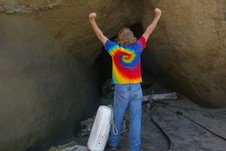 Email John Vonderlin (
[email protected]
)
Hi June,
Here is the full email from
* off of Ken Babbs website. Though I'm a skeptic
Cryptozoology
has been one of my interests for decades. I don't see any reply to his email, but I'm going to contact him. I find myself chuckling when I think of the cast of characters that assembled for the making of the movie. I'm a little mystified how it could be a children's movie though.
I wonder if he had anything to do with Russell's friend, Bigfoot? Enjoy. John
SUNDAY, AUGUST 26, 2007
Subject: Suggested reunion of Pranksters and Skypilots on camping trip in Sierras.

My name is Erik Beckjord, and I was a cameraman on Keseys'
filming of a movie, "Atlantis Rising" in the 70s at Davenport Beach,
CA near Santa Cruz. KK dubbed me an honorary prankster.for my work and
other stuff. 😉 (I do seek to buy some photos of that event, if any one has any).
I'm interested in seeing more reunions of Pranksters and Skypilots,
and I am inviting them to attend a camping trip in the High Sierras
in a semi-wilderness setting where there is swimming in a pond, campfire rings, and privacy.
Sept 6-10
come for all or part…

There is also Bigfoot, which has been heard and photographed there
and seen by people in my research group, the International Cryptozoological Society

There is no fee, and it is bring yer own food and camping gear.
Located near Kit Carson, on route 88,CA between Stockton and Tahoe.
You can park 1/2 mile from site, or take a 4×4 in. Easy.
Your kids may get Bigfoot in their throwaway camera… it does happen.
Pranksters, etc, visiting this area can also crash as my place in Lafayette,
which has a pool.
———
Sadly, Mr. Jon-Erik Beckjord passed away in June 2008.