The Coburn Mystery, Chapter 59
By June Morrall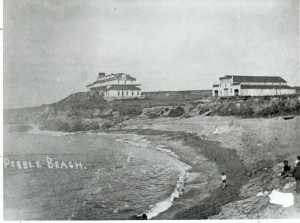 September 1893
Pebble Beach was "set free" by a vote of the California legislature, recognizing the beach as "Pescadero's inheritance," a welcome addition to the county park system.
Certainly the villagers hoped this would snuff out the landowner Loren Coburn's plans for a big hotel overlooking famous little Pebble Beach. He was going to charge an entrance fee, wasn't he?
And without doubt, this was a frustrating time for the unpopular Coburn, who had believed he owned Pebble Beach, but nothing stopped him from choosing the furniture for the new hotel he was building.
Construction of the Pebble Beach Hotel drew on local resources. The William Hughes Mill produced 173,000 feet of lumber for the  hotel that measured 140 x 50 feet. A covered veranda, ten feet in width, surrounded the building.
Soon after the villagers celebrated the official recognition of Pebble Beach Park  with a "Mammoth Picnic" on the pebbles, teams of horses were seen hauling heavy timbers to the hotel site at the north end of the beach. Loren had hired his favorite nephew, Carl, to put on a carpenter's apron, but when it came to working with a hammer and nails, Carl was not the most reliable.
Like many construction projects, Loren Coburn's fell behind schedule. First completed was the 100- foot long stable, with accommodations for guests who arrived in their own horse-drawn carriages.
Lovers of Pebble Beach could still ride the stage there. A round-trip cost $.25….I think from San Mateo to Pescadero but I'm not sure.
In Pescadero the gossip was about a possible race track at Pebble Beach. It looked as if a crude track had been laid out for exercising horses. Thousands of sheltering cypress trees were arriving soon, to help hold back the area's heavy winds and fog. Most everyone was captivated by a story about Bean Hollow Lagoon. Loren Coburn was talking about transforming Bean Hollow Lagoon into a fresh water lake.