Hi June,
While picking my way through the slimy, lowtide-revealed path to the Gordon's Chute site, the frequent explosion of whitewater, above the base rock that once served as its wave-washed foundation, warned me of the problems we would face.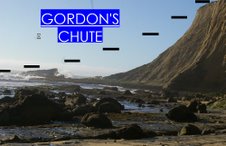 Once we had climbed onto the base rock, and I had a chance to view the circumstances present at the lowspot I had planned to climb down at, I knew I'd reached another Chicken's Roost in my coastal explorations. I could look at the virgin territory to the north below the sheer Tunitas cliffs, but I was loathe to risk my life by actually penetrating, "The Forbidding Zone."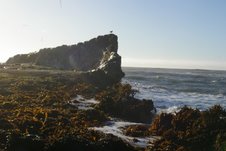 As you can see, my hope that I could ease myself down through the slippery lowspot between waves and splash my way at least to the sea cave was not to be. At least not that day. Instead I did a photo shoot from various points on the base rock, trying to capture what it must have been like for the hardy seamen a couple of centuries ago who anchored their boats offshore and loaded them with products from local farmers by means of Gordon's amazing structure. Here's an excerpt I found in the Newspaper Archives (cbsr.tabbec.com) as to what those products might have been.
The sole reference I could find to this short-lived, but ingenious structure was in the September 14th, 1876 issue of "The Daily Alta." In it's regular "Importations" column, was listed "GORDON'S CHUTE – Per Continental ( where it was coming from and the ship that was bringing it to S.F.) 745 sks barley, 342 do oats, 172 do beans, 1552 do potatoes. (sks is sacks I suppose, "do" I'm not sure about, surely a volume or weight measurement.)
This amounts to almost 3,000 units of produce that had to be "slid" down the one- hundred- foot- high chute to the cargo loaders waiting below, on a ship. that because of the waves. is rising and falling, rocking back and forth, as well as rhythmically surging against its anchors. Something that apparently was fairly dangerous and susceptible to mishaps.
This picture from the end of the base rock with exploding surf topping it conveys some of the ocean's danger. Though the speed and weight of the various "sks" or "dos" coming down the chute was a constant danger, irrespective of the ocean's conditions.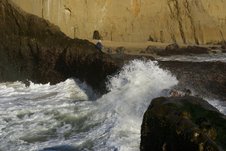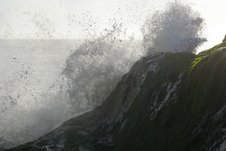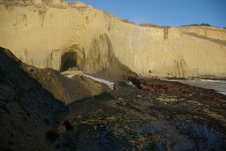 taken from the very end taken between big sets that demonstrates what the sailors would have been looking at landward, minus the Chute of course. I imagine when a strong storm eventually wrecked the chute, there were more then a few sailors that rejoiced at its demise, had a strong drink or two and recounted to their wide-eyed mates what it was like during some of their wilder runs to Gordon's Chute. Enjoy. John