For more information, please email Russell's brother, Richard L. Towle at [email protected]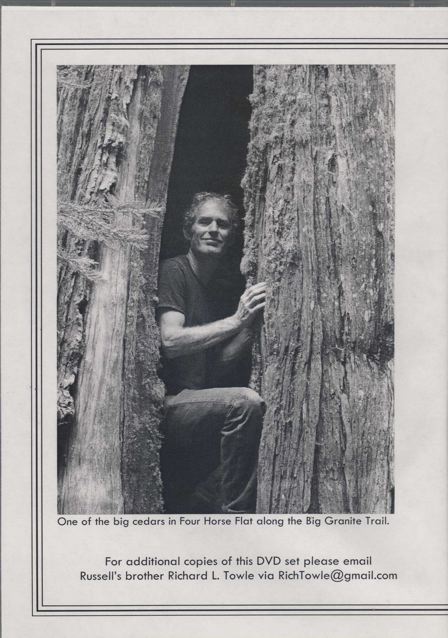 [Image: One of the big cedars in Four Horse Fat along the Big Granite Trail.]
"From the DVD: Russell Towle was an avid hiker in the river canyons of the Sierra Nevada, and a tireless advocate for the preservation and development of public access to historic trails in the Sierras. Russell was also a brilliant and innovative mathematician, entranced by higher-dimensional forms. He was a computer animator. He was an extremely doting father who enjoyed every single moment of life with his kids. He was a lover of classical Latin literature and Shakespeare, of Tintin comics and Terry Pratchett novels. He was a historian and a writer; a geologist; a linguist; an artist; a builder; a musician with a special love of Brazilian music; a nature lover and photographer. He was a tireless trailblazer, who habitually carried loppers on his hikes, to trim the way and ease the passage of others who would follow. Russell was self-taught, formal education processes were far too slow for his quick, deep, wide mind. "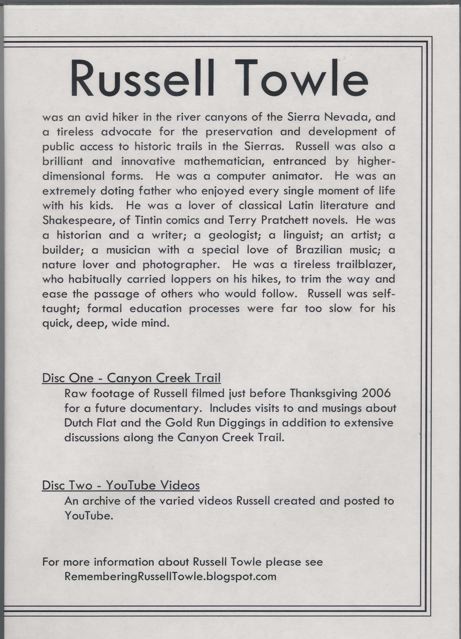 Disc One: Canyon Creek Trail
Raw footage of Russell filmed just before Thanksgiving 2006 for a future documentary. Includes visits to and musings about Dutch Flat and the Gold Run Diggings in addition to extensive discussions along the Canyon Creek Trail.
Disc Two: YouTube Videos
An archive of the varied videos Russell created and posted to YouTube.