By June Morrall
Email June ([email protected])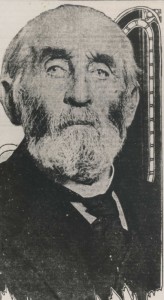 1893-94
Loren Coburn was overseeing construction of his hotel overlooking Pebble Beach. As with any big construction project, there were many after thoughts, and despite Loren's reputation for frugality, he opened his wallet wide for the Pebble Beach Hotel.
The pace was demanding, and  locals wondered out loud how the 67-year-old millionaire could keep it up.
"A younger man," the critics said, "would be more successful." Others admitted that the  hotel would translate into a new "drawing card" for tiny Pescadero.
[Note: I have misplaced the next 3 pages of the original ms. so I'm suddenly jumping forward.]
You may recall that while Pebble Beach was added to the San Mateo County Park system, there was no public road leading to it. Coburn had built his own private road which he wasn't willing to share.
Without a resolution to the road problem, the struggle to get to Pebble Beach dragged on, with more tearing down and repairing of the fence and gate.
Relations were especially tense between Loren Coburn and County Supervisor Henry Adair.
"…Adair said he should keep that fence open just as long as he lived, whether he was in office or not" said Sarah Upton, the sister-in-law, and soon to be the wife of Loren Coburn. "Mr. Adair said that we should keep that fence down and open…"
Supervisor Adair corrected: "I told Mr. Coburn that I would keep that gate open as long as I was supervisor, and then I would go as a citizen." He knew that the board of supervisors had ordered that a road survey be made by Davenport Bromfield, the county's well known surveyor.
Maybe the future "road survey" was what had emboldened another skirmish at the gate to Pebble Beach, this one nasty and ego bruising.
It began when Sarah Upton and Loren Coburn, both on horseback, headed for Pebble Beach. Sarah saw a gnarled ball of barbed wire inside the gate and warned: "Your horse will get into that."
At that moment Joe Levy rode up.
According to Sarah, Levy said: "Coburn, get out of the road. I am going to the beach."
"I am not in the road," Coburn said sharply.
"If you don't get out of the road, I will drive over you."
"You are not going through my 'enclosure' here to go to the beach."
And so it went, a heated tussle of words, until the roadmaster Charles Pinkham, with Supervisor Adair seated at his side, drove up in a large wagon pulled by four horses. There were 20 men with them.
Sarah continued to describe the scene as she recalled events: "…Adair got down from the wagon, and he took a saw, a hand saw, and went to sawing the fence. Loren Coburn was standing between the buggy and the fence."