[Images by Larry Fitterer.]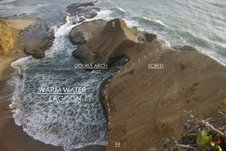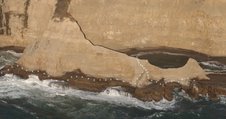 Email John Vonderlin ([email protected])
John Vonderlin to Larry Fitterer
Hi Larry,
Your great photos of "The Gauntlet," inspired me to begin "mapping" the area. I've attached a photo of Warm Water Lagoon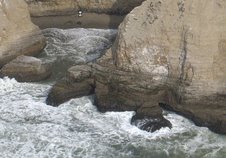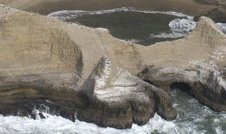 as an example of what I'd like to do. Is the ??? spot where a rope should be to climb down "The Scree?" Is the ?? spot where you climb up from the lagoon? Is it easy? I'd really like to get some photos from the ? spot. You ever just sit there like you did on the cliff above? I'm going to try to label all my relevant pictures and Screen Shots from CCRP until I've got a coherent route map the metaphorical "wagon trains" can follow.
I hope your fracture heals soon. Spring's good weather and low tides will soon be upon us. Enjoy. John.
vvvvvvvvvvvvvvvvvvvvvvvvvvvvvvvvvvvvvvvvvvvvvvvvvvvvvv
Larry Fitterer to John Vonderlin
Hi John,
I think that's a great idea.  Attached are two edited shots of WWL.  [see images at top of this post.]
The first is your image.  The "X's" mark the path from the back of the cove to the base of the Scree Slope.  Accessible only at a reasonably low tide, it's pretty easy to ascend the 8 feet or so to the ledge and then contour around the base of the Scree Slope to the point of ascent.  "Y's" mark the Scree Slope itself with the topmost Y marking the spot where we should anchor a rope.  "Z" marks a good spot for resting and pictures.
The second image is also of WWL, borrowed from California Coastal Records, and cropped to focus on the main WWL promontory from the western view.  Again, "Y" is the top of the Scree Slope.  "Z" is the rest/photo spot.  Asterisks mark the path down, one way to the end of the promontory and the other, north, to the smallest Notch cove.  "1" marks the hole, or window, straight down 20 or so feet to the water enterin the arches.
My leg is feeling great.  The ankle seems to be completely healed.  My fibula is better as well.  I have no pain or limitations in walking but I'm not quite ready to subject it to the rigours of running or extreme hiking.
Great tides this weekend.  I may take the twins to Pillar Point to explore the tidepools tomorrow.
Take care,
Larry