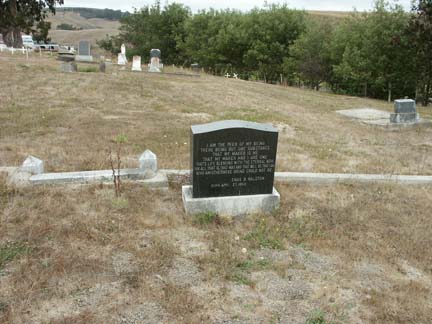 Hi June,
This is my favorite epitaph in the Mt. Hope Cemetery in Pescadero. I'd love to know something about this man. Was he a mystic? A humanist? Or like me a believer in the Oneness of AlI, where the Creator and Creation are the same? Or is he still alive and celebrated his 148th birthday this spring? I websearched him and only found that somebody else had put his epitaph online. It Reads:
I AM THE PEER OF MY BEING
THERE BEING BUT ONE SUBSTANCE.
THAT MY MAKER IS ME
THAT MY MAKER AND I ARE ONE
THAT'S LIFE BLENDING WITH ETERNAL NOW.
I AM ALL THAT IS, THAT WAS, AND THAT WILL BE. THAT I AM.
WHO AM OTHERWISE BEING COULD NOT BE.
ENOS B. RALSTON
BORN APRIL 27, 1859
There is one piece of punctuation I left out, that being a period centered and halfway from the top and the bottom of the letters between AM and OTHERWISE in the last line of the epitaph. I'm not sure what that means grammatically. Does anyone know? I sure like it. Enjoy. John Vonderlin
Email John: [email protected]