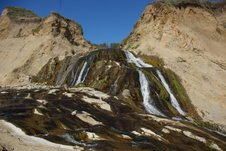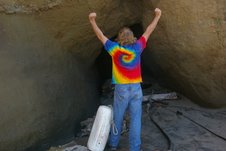 Story & Photos by John Vonderlin
Email john ([email protected])
Hi June,
We made a trip to Invisible Beach a couple of days, ago and found the colorful pebbles covered by a thick layer of sand and virtually no marine debris. However, there were a number of strands of Feather Boa Kelp strung along the beach. Why so many chunks of this particular variety of kelp should show up at this time is just another mystery of this strange beach. For those not familiar with this appropriately named kelp you can familiarize yourself by visiting this website.
www.marine.gov/egregia.htm
or check this picture out. (sod #019)
While I didn't find any non-buoyant marine debris to collect, I did see a large piece of driftwood, with a beautiful sinuous form, washed up on the beach. When I commented to Meg how good it would look in her garden, she concurred, but ventured that it was too heavy to carry the half mile back to the car. Did I sense a challenge? After my shaky, doubt-filled expeditionary visit to "
The Notch
," I've been wanting to recover my mental toughness and confidence. This seemed like a good opportunity. Kneeling down under one of its curves and struggling to my feet, I was amazed how comfortable its smoothness felt on my back and shoulders and how well it balanced itself. It wanted to go home with us.
It took me five
portages
, but when I finally slid it into my car, where it fit like it belonged, I knew it was meant to be. Here's a few pictures of my struggles.
More exciting to me is when Meg told me there was a dirt road being constructed across the road from Bob's produce stand, about five miles south of Half Moon Bay. Knowing that a few days ago the local newspaper had an article saying that work had begun on the Pillar Point and the Cowell/Purisima sections of the
Coastal Trail
, her interest was piqued. She stopped for some veggies at the stand and inquired. Yes!! The dirt road is part of the construction. Apparently it will lead to the planned parking lot near the impressive coastside
Purisima Falls
, I wrote about from our trip to "The Secret Beach."
I am excited that soon anyone will be able to view this previously almost unreachable stretch of our beautiful coast. I'd urge everyone to watch for its opening. A visit to the
California Coastal Records Project
website to view Pictures 
6147
–
6167
will whet your interest in this soon to be easily viewable stretch. While a part of me regrets its loss of solitude, there are plenty of other stretches I don't think the Coastal Trail will open up to the general public in my lifetime. Especially, if I keep carrying around big chunks of driftwood. Enjoy. John