Image: Early San Gregorio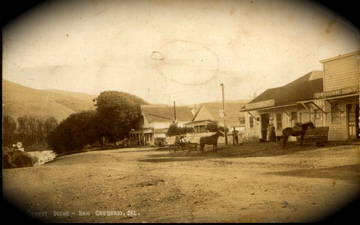 From History of San Mateo County by Frank Stanger, Narrative and Biographical, 1938
For many years Manuel M. Bettencourt has been identified with transportation activities, owing his advancement to proven worth and ability, and in civic affairs of San Mateo he plays a leading part. He was born March 25, 1886, in San Gregorio, San Mateo county, and is a son of Manuel Bettencourt de Avilla, a native of the Azores, and Mary (Mesquite) Bettencourt. His father is one of the pioneers of San Mateo county and for a number of years operated a ranch near San Gregorio. In 1891 he brought his family to San Mateo and is now living retired.
Manuel M. Bettencourt attended the public schools of San Mateo until he had completed the curriculum of the tenth grade and this constituted the extent of his educational advantages. At an early age he went to work for E. A. Husing, with whom he remained for a considerable period, and then secured a position in the San Francisco office of the ticket auditor of the Southern Pacific Railroad Company. Mr. Bettencourt spent eighteen and a half years with that corporation, acquiring a practical knowledge of the intricate details of the railroad business, and in 1919 became connected with the Western Pacific system in the capacity of chief rate clerk in the passenger accounting department. He is efficient, trusthworthy and conscientious and since March 15, 1926 has been chief rate clerk in the general passenger's office, office which is situated in the Mills building of San Francisco.
In 1911, Mr. Bettencourt was united in marriage to Miss Katherine Jung, who was born in San Jose, California, and they have become the parents of two children: Eleanor Bernice, a junior in the San Mateo Union High School and Robert Joseph, who is attending grammar school. Mr. Bettencourt is a member of the Decimo Club and secretary of the San Mateo Planning Commission. He is working systematically and effectively for the good of his community and has won and retained the esteen of all with whom he has been associated in the varied relations of life.
———