Image by Joel Bratman.
Email Joel:  ([email protected])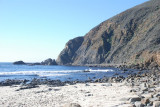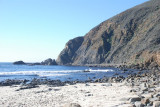 Enjoy Joel Bratman's spectacular photos  of Pfeiffer Beach at Big Sur.  Makes me think of the famous Esalen Institute. 
I've always thought of "Devil's Slide" as a mini-Big Sur. Doesn't Joel's photo remind you of the gateway to the "Slide" from Montara? 
For Big Sur images, please click here
Joel's GREAT  San Mateo County photos are here